This review is taken from PN Review 257, Volume 47 Number 3, January - February 2021.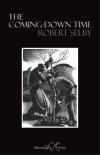 The Coming-Down Time, Robert Selby (Shoestring Press) £10.00,
Long Distance, Michael Vince (Mica Press) £8.99
In an age of social distancing, poetry seems more vital than ever for forging connections across rifts in time and space. Two new collections – one by a seasoned poet, pensive and subtle; the other a dazzling debut from the editor of Wild Court – amply bridge past and present, the remote and the immediate. While their voices are uniquely their own, Robert Selby and Michael Vince share common features in their collections, including an interest in obscurer corners of erstwhile England – rural Suffolk in the early twentieth century; a Victorian London suburb – yet remoteness is made present through their gripping, even startling scenes, the accessibility of their language, control of formal elements, and the reworking of pastoral tradition.

In his opening poem, Robert Selby establishes the spirit that invigorates The Coming-Down Time. His 'Chapel' ancestors, 'owning no graveyard, / are permitted to join the heaped-up past / among St Bartholomew's windswept grass / during a terse, wind-scattered prayer'. Permeated by a sense of landscape, history, family, and divine intention, Selby's collection is a three-part lyrical meditation on the forces that define individual and national identity. 'East of Ipswich' memorialises the poet's ancestors, especially his grandparents, while 'Shadows on the Barley' contains persona poems, elegies, and poems of personal reflection and relationships; the final section, 'Chevening' – ostensibly a country­house sequence – embodies the intertwining of personal experience and social history. 'All of it evocable at a whiff of buddleia. / It wreathed the dead, straightened the steeple, / placed the fielders, re-glazed the red phone box.' At the ...
The page you have requested is restricted to subscribers only. Please enter your username and password and click on 'Continue'.
If you have forgotten your username and password, please enter the email address you used when you joined. Your login details will then be emailed to the address specified.
If you are not a subscriber and would like to enjoy the
280
issues containing over
11,300
poems, articles, reports, interviews and reviews, why not
subscribe
to the website today?