This review is taken from PN Review 256, Volume 47 Number 2, November - December 2020.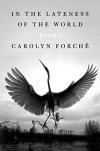 Carolyn Forché, In the Lateness of the World (Bloodaxe) £10.99
Her latest collection after the widely-acclaimed
The Country Between Us
that establishes her work as a 'poet of witness', Carolyn Forché's
In the Lateness of the World
is an uncompromising, richly-textured and elegiac narrative on migration, crossings and social justice. Rich in intertextual references, the book prompts the reader to reflect on violence, the aftermath of history, and one's identity as a reader and writer, encouraging the reader to make connections between poetry and history.
The title of this collection draws from Robert Duncan's poem 'Poetry, a Natural Thing', prompting us to reflect on the role of art or poetry in times of political conflict, and the possibility to build a new world through the power of naming or the shaping of a voice: 'a call we heard and answer / in the lateness of the world / primordial bellowings / from which the youngest world might spring'. The epigraph of the book
is taken from the French-Jewish-
Egyptian poet Edmond Jabès,
The Book of Questions
, an aphoristic narrative that explores the painful condition of exile:

To those, finally, whose roads of ink and blood go through
words and men. And, most of all,
to you. To us. To you.

Throughout the collection, the art of writing ('roads of ink') becomes a symbolic process of naming, seeking and healing, such as the contemplation of writing as '
older than glass but younger than music, older than clocks or porcelain but younger than rope
' in 'The Lost Suitcase'. In 'Elegy ...
The page you have requested is restricted to subscribers only. Please enter your username and password and click on 'Continue'.
If you have forgotten your username and password, please enter the email address you used when you joined. Your login details will then be emailed to the address specified.
If you are not a subscriber and would like to enjoy the
272
issues containing over
11,000
poems, articles, reports, interviews and reviews, why not
subscribe
to the website today?