This review is taken from PN Review 256, Volume 47 Number 2, November - December 2020.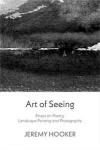 Jeremy Hooker, Art of Seeing: Essays on Poetry, Landscape Painting and Photography (Shearsman Books Limited) £16.95)
Common Ground, the charity co-founded by the nature writer Roger Deakin, aims to promote
'local distinctiveness'. As a phrase, it roughly describes the commonality Jeremy Hooker seeks in his poetics. Seeking a sense of 'ground' through years spent living in Wales and the South of England, he gradually explored the sense of 'deep rhythms' he found 'embodied in the land itself, through the long interaction between human life and language and the physical groundwork of place'. It's no surprise, therefore, that his poetry collections bear titles like 'Solent Shore' and 'Englishman's Road', nor that he frequently name-checks writers such as Edward Thomas and Richard Jefferies.

This handsome collection of essays, several of which first appeared in PN Review, is a companion volume to Shearsman's recent Selected Poems. Hooker's gradually developed readings of poets and painters, however, takes the reader through some unpredictable locations. The essays begin with Coleridge and the Welsh Modernist David Jones: the former's writings in Lyrical Ballads are described, in a revealing metaphor, as 'common bedrock', whereas the latter introduced Hooker to formal linguistic devices that evaded the vague pitfalls of self-expression. In a later essay, 'Gathering All In', the problems inherent in grasping Jones' entire corpus of painting and poetry are explored; Hooker, however, found the 'physicality' and 'materiality' of Jones' epic The Anathemata stimulated his ideas of depth through time.

Truffling beneath the surface of Heaney's essay 'Englands of the Mind', Hooker notes similarities between poets of place (Clemo, Bunting, Roy Fisher) but also teases out ...
The page you have requested is restricted to subscribers only. Please enter your username and password and click on 'Continue'.
If you have forgotten your username and password, please enter the email address you used when you joined. Your login details will then be emailed to the address specified.
If you are not a subscriber and would like to enjoy the
267
issues containing over
10,800
poems, articles, reports, interviews and reviews, why not
subscribe
to the website today?