This review is taken from PN Review 255, Volume 47 Number 1, September - October 2020.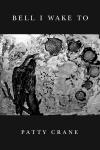 Anywhere out of the world
Bell I Wake To, Patty Crane (Zone 3 press) $14

Regardless of what we do to it – from Instagram tourists to Australian brush fires – we persist in holding nature in our minds as an inviolate space, as something pure and untouched. Innocent, in a word. And instead of human-kind affecting (or destroying) nature, nature is still conceived as influencing, even healing us. The state of nature doesn't exist before society but alongside it as a counterpoint and a retreat from it. Poetically, this idealization has a long history not least because of man's history of near constant despoliation of pristine countryside. The Georgic and the pastoral were the felt response to a world that was too much with us and which was alienating us from ourselves. Nature, not Frost's family home, is where we go when we want to be taken in, connect and be made whole. As Patty Crane writes: 'If this land is the sermon, our hands in it/must be some kind of appeal.'

Crane lives in rural, western New England – aka Frost Country – and writes austere, measured poems about encounters with nature. Her range of vision is very close, honing-in on the small details to then zoom out to make a larger point. The opening of 'White Birch', 'I'd forgotten how the curled bark blushes pink sometimes,/out of dampness I suppose' leads to her daughter's nose bleed 'her hands cupped like leaves' to catch the blood and then finally connects to blood and a young girl maturing:'the blood / that's yet ...
The page you have requested is restricted to subscribers only. Please enter your username and password and click on 'Continue'.
If you have forgotten your username and password, please enter the email address you used when you joined. Your login details will then be emailed to the address specified.
If you are not a subscriber and would like to enjoy the
271
issues containing over
11,000
poems, articles, reports, interviews and reviews, why not
subscribe
to the website today?