This review is taken from PN Review 255, Volume 47 Number 1, September - October 2020.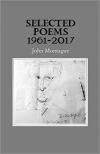 John Montague
John Montague: Selected Poems, 1961–2017, Ed. Peter Fallon (Gallery Press) £12.50


If Seamus hadn't become so famous, John Montague, who was a decade older, would be considered the premier Ulster poet of the last sixty years. There are close parallels between the two but Montague's republicanism and strong attraction to American and European models – he studied at Yale and the Iowa Writers' Workshop and died in Nice in 2016, a knight of the Légion d'honneur – tended to complicate his reputation.

America was a kind of return. Montague's father had gone there from County Tyrone in 1925, followed three years later by his mother and two older brothers. John was born in Brooklyn, but sent home to Ireland at four, in 1933. In 'The Locket' he confesses a sense of profound betrayal and rejection, softened only by the discovery, after her death, that Molly had worn his infant portrait next to her heart for most of her life. A yet more profound division afflicted young John, separating him from the language he had begun, as he says in 'A Flowering Absence' 'to dolphin delight in'. Mocked by a teacher for his Brooklyn slum vowels, he develops a stammer: 'my tongue became a rusted hinge / until the sweet oils of poetry // eased it and grace flooded in.'

A good deal of the poetry, and a high proportion of the poems selected here by Montague's long-time editor, Peter Fallon, are concerned with the aegis and nature of poetry itself. There are other poems, ...
The page you have requested is restricted to subscribers only. Please enter your username and password and click on 'Continue'.
If you have forgotten your username and password, please enter the email address you used when you joined. Your login details will then be emailed to the address specified.
If you are not a subscriber and would like to enjoy the
271
issues containing over
11,000
poems, articles, reports, interviews and reviews, why not
subscribe
to the website today?