This review is taken from PN Review 255, Volume 47 Number 1, September - October 2020.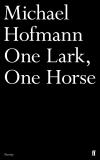 At Odds with Things
One Lark, One Horse, Michael Hofmann (Faber) £10.99

The title of Michael Hofmann's latest book of poems, derived from a joke told by Primo Levi about a delicatessen-owner who sells 'lark pâté' but adulterates it with horse-meat at the rate of one horse for every lark, seems to speaks of ridiculously unbalanced compromise, of a fraudulent world in which everything sold to us as precious or specialised is nearly all composed of cheap, unpalatable stuff we wouldn't really want. This might include poetry itself (signified by that Shelleyan lark), an apparently rarefied delicacy that's actually a lot more earthbound and gristly than it may seem. Levi's joke is apt too because of the double-speak inherent in its terms: larking and horsing around are what jokes do, after all.

One horse, one lark: two disparate things, one big and one tiny, comically aligned. This Laurel and Hardy-like image ushers in a set of poems which are logjams of objects and entities in odd juxtaposition, build-ups of thingliness that are nevertheless far from Rilke's 'sachliches Sagen' with its aspiration to capture the inner essence of phenomena. In the disenchanted landscape of Hofmann's poetry, thingliness has become the chewy horse-meat of an ersatz culture that purports to have lark-like qualities, blocking off any sort of lyric impulse or consoling epiphany, breaking syntax down into ungainly inventories of noun-clauses and names. Any more than for Stephen Dedalus on Sandymount Beach, the nacheinander of one-thing-after-another leads not to revelation but to the rueful hindsight and stock-taking which ...
The page you have requested is restricted to subscribers only. Please enter your username and password and click on 'Continue'.
If you have forgotten your username and password, please enter the email address you used when you joined. Your login details will then be emailed to the address specified.
If you are not a subscriber and would like to enjoy the
272
issues containing over
11,000
poems, articles, reports, interviews and reviews, why not
subscribe
to the website today?