This article is taken from PN Review 252, Volume 46 Number 4, March - April 2020.
Interactions
3. 'Ode to the Water Molecule'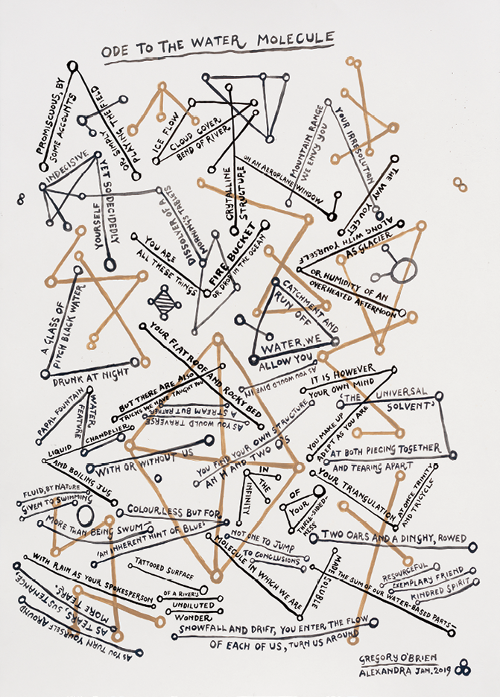 Promiscuous, by some accounts,
or simply playing the field –
indecisive, yet so decidedly
yourself, you are
all these things: ice flow,
cloud cover,
bend of river,
crystalline structure
on an aeroplane window, fire-
bucket or drop
in the ocean, dissolver of a morning's
tablets or
mountain range. We envy you
your irresolution,
the way you get along
with yourself, as glacier
or humidity of
an overheated afternoon. A glass
of pitch-black water
drunk at night.
Catchment and run-off. Water,
we allow you
your flat roof and rocky bed
but there are also
tricks we have taught you:
papal fountain, water
feature, liquid chandelier and
boiling jug. It is, however,
your own mind
you make up, adept as you are
– 'the universal solvent' –
at both piecing together
and tearing apart. With or
without us, you find your own
structure, an H and two O's
in the infinity
of your three-sidedness, your
triangulation, at once trinity
and tricycle. Two oars
and a dinghy, rowed.
Colourless, but for
'an inherent hint of blue',
molecule in which
we are made soluble, the sum
of ...
The page you have requested is restricted to subscribers only. Please enter your username and password and click on 'Continue'.
If you have forgotten your username and password, please enter the email address you used when you joined. Your login details will then be emailed to the address specified.
If you are not a subscriber and would like to enjoy the
272
issues containing over
11,000
poems, articles, reports, interviews and reviews, why not
subscribe
to the website today?