Readers are asked to send a note of any misprints or mistakes that they spot in this item to
editor@pnreview.co.uk
This item is taken from PN Review 252, Volume 46 Number 4, March - April 2020.
News & Notes
Oh. Joy? ·
The word 'Schiller' is defined as 'a lustrous coloured reflection from certain planes in a mineral gem'. For Friedrich Schiller, the light is changing. His 'An die Freude' or 'Ode to Joy', the text set by Beethoven in his Ninth Symphony, is being replaced at a concert on 16 and 18 April at the Southbank Centre's Royal Festival Hall by Anthony Anaxagorou's 'new ode to "joy" for the 21st century' entitled 'O Human'. The press release reassures us, in the conductor Marin Alsop's words, that 'Beethoven's message of unity, tolerance and joy is as relevant today as it was in 1824. […] Beethoven celebrated the essence of what it is to be human and what it is to be connected. We want to embrace this philosophy,' (philosophy?) 'throw the doors wide open and say: everyone owns this piece, this idea, and together, we are much stronger.' Schiller was part of the pice, of its conception and execution. No longer. Out he goes, and in comes something wholly contemporary. How is it that Beethoven himself survives? Surely it's time for a complete makeover? But no, this will be 'the biggest performance of Beethoven's 9th Symphony ever staged in the Royal Festival Hall', only it's not quite Beethoven's. It's
applied
music. 'The performance is part of global project
All Together: A Global Ode to Joy
, the brainchild of Alsop, which will see Alsop conduct Beethoven's 9th Symphony with eleven orchestras on six continents, connecting people from South Africa to China, USA to Australia throughout 2020. The UK's contribution is a celebration of youth brilliance, and Beethoven's ability to speak directly to people of all backgrounds, a sharing of joy, seen through today's eyes and heard through today's sounds; going
Beyond Beethoven
.' Same baby, different bathwater, or vice versa. '
Beyond Beethoven
9
intersperses Beethoven's blazing, radical music with new compositions by "
personable polymath
" [
The Times
] Bill Barclay (who also directs the Southbank Centre production) and a new jazz work by Benjamin Burrell (composer and musical director of the National Theatre's recent acclaimed production of
Small Island
).' Anaxagorou's replacement ode will be 'reflecting on what joy means to young people in the twenty-first century. Anaxagorou, who is also Artistic Director of Out-Spoken, a monthly poetry and music event held at London's Southbank Centre, led workshops in London secondary schools and with young refugees, asking participants what "joy" meant to them. This resulted in almost 100 poems, which Anaxagorou has used to inform his new interpretation of Schiller's famous 1785 poem.'
Frost Medal ·
Early in February it was announced that Toi Derricote had been awarded the Poetry Society of America's chief accolade, the Frost Medal, for her 'distinguished lifetime achievement in poetry'. Previous winners include Marianne Moore, Gwendolyn Brooks, Allen Ginsberg, Adrienne Rich, Barbara Guest, Lucille Clifton, Marilyn Nelson, Susan Howe, and, most recently, Eleanor Wilner. The citation declares, 'There are few poets who are as brave as Toi Derricotte; brave in her subject matter and brave in how she insists that even the deepest hurts must sing on the page.' Her sixth collection,
'I' New and Selected Poems
, was published in 2019. She is Professor Emerita of University of Pittsburgh and a former Chancellor of the Academy of American Poets.
T.S. Eliot Prize ·
Roger Robinson was awarded the 2020 T.S. Eliot Prize, a triumph too for his publisher Peepal Tree Press, which has done such service to poetry and other writing with Caribbean roots. The chair of the judges, John Burnside, said Robinson 'finds in the bitterness of everyday experience continuing evidence of "sweet, sweet life"'. The poet praised his publisher and his editor: 'They are amazing, they are amazing. It's a very small staff... but what they lack in size they have in pure attention to detail and a real love for books. Jeremy Poynting is an incredible editor.' He was brought to the publisher's attention by Kwame Dawes, now associate poetry editor, one of Robinson's poetry mentors.
Canada Calling ·
The Montreal International Poetry Prize returns, promising a purse of $20,000 for a poem of 40 lines or fewer. An international jury will shortlist 50 poems and the Supreme Judge Yusef Komunyakaa will chose the winner. The shortlisted poems will be anthologised in
The Global Poetry Anthology
. Further information at https://www.montrealpoetryprize.com/.
Kamau Brathwaite (1930–2020) ·
John Robert Lee writes:
Here on the pavement lies its stump its grave its epitaph
all in one turrible neglected jumble moment of activity
& silence & forgetfulness –

Those who come now – walk here – stumble a foot. step on the trunk –
wd nvr know that it once stood -w/tall & spread-out branches leaves
& sparkle shade & night-time dark & star-light peace & some-
times sorrow – and how it miss the Quick birds now

and how the Quick birds miss it where it was –

Kamau Brathwaite, 'Beech tree fallen among dreams',
Strange Fruit (Peepal Tree, 2016)
Kamau Brathwaite died in Barbados on Tuesday 4 February at 89. From
Rights of Passage
(OUP, 1967), throughout his poetry and critical writing, Kamau Brathwaite gave communal voice to African peoples of the Caribbean islands and the Americas. He tested boundaries of poetic form on the printed page.
Liviticus
(House of Nehesi Publishers, 2017) and recent publications including
Strange Fruit
employed his Sycorax Video Style (SVS). Various fonts, photographs and designs were used to create word and image impressions.
Arrivants
(OUP, 1973), in its early separate books, was the most radical poetry available to my generation of writers. His 'nation language', giving validation to Caribbean English, was a watershed.
With Derek Walcott, he is one of the two most influential poets of the English-speaking Caribbean. While both were concerned with Caribbean history and culture, Brathwaite's life-work probed and paid homage to the majority African inheritance. I was fortunate to know Kamau and to be in audiences during the seventies when he read, wonderfully, from his eagerly anticipated books. He was always supportive, seeking continually to encourage sustenance of a pan-Caribbean community of writers.
He has left a massive body of work, creative, historical and scholarly, that becomes a major inheritance of the Caribbean and world.
Fruitful Errata ·
Nicolas Tredell writes
: George Steiner, literary critic, cultural commentator and fiction writer, died on 3 February aged 90. Steiner was a provocative figure because of the fundamental topics he addressed, his eloquent, sometimes inflated style, and his lapses in scholarship; but literary culture, especially in England, which became his uneasy home, would have been poorer without him. Steiner, born in Paris into a cultured and prosperous Viennese Jewish family, grew up speaking French, English and German and reading ancient Greek and Latin, which contributed to a lifelong fascination with the varieties of linguistic experience. His father, foreseeing the threat Hitler posed, moved the family from Paris to New York in 1940, just before the Nazi invasion, making Steiner, in the title of one of his most notable essays, 'a kind of survivor', acutely aware of his narrow escape from the fate of millions of European Jews.
Steiner studied at the universities of Chicago, Harvard and Oxford, worked as a staff writer on
The Economist
, and, at the Institute of Advanced Study in Princeton, completed his first book,
Tolstoy or Dostoevsky
(1959), a bold break with what he saw as the limitations of American New Criticism and English Leavisism. Many books followed, perhaps most notably
The Death of Tragedy
(1961),
After Babel
(1975) and
Antigones
(1984). These were more successful in their local analyses than their overall arguments, however, and Steiner, as a critic, was at his best in shorter forms. The collection
Language and Silence
(1967) remains one of his richest and most readable books; the essay form tempers eloquence with concision and a sense of intense engagement with key themes of his whole oeuvre comes through: the co-existence of culture and barbarism; the enormity of cultural decline; the urgency and difficulty of expressing in words the extremes of human experience. In contrast, later books such as
Real Presences
(1989) and
Grammars of Creation
(2001) are anti-deconstructionist polemics that slide swiftly into evasively magniloquent rhetoric. More effective is the fiction collected in
The Deeps of the Sea
(1996): the novel
The Portage to San Cristobal of A. H.
(1979), which envisages Hitler speaking powerfully in his own defence, and stories such as
Proofs
(1992), set in the twilight of Communism. But the whole body of Steiner's work satisfied the criterion he formulated in his 1990
PNR
interview: 'it's not whether you get it right – you don't – but whether you get it wrong fruitfully'.
Nikos Kazantzakis's god-daughter ·
Karen Van Dyck writes:
When Katerina Anghelaki-Rooke (1939–2020) was one year old, the celebrated writer and critic Nikos Kazantzakis stood as godfather at her baptism. When she was seventeen, he published her poem 'All Alone' in an Athenian magazine with a note saying that it was the most beautiful poem he had ever read. By her early twenties she was already an established poet. During the dictatorship (1967–74), she and a group of younger poets spearheaded a new kind of poetry that grappled with the confusion and censorship of those years. Meeting regularly with the translator Kimon Friar, they produced an anthology of six young poets, one of the first books to break the self-imposed silence initiated by the Nobel laureate poet George Seferis in response to the colonels' press laws. Linking the women poets of the previous postwar generation (Eleni Vakalo, Kiki Dimoula) to those of the generation of the '70s (Rhea Galanaki, Maria Laina, Jenny Mastoraki), Anghelaki-Rooke stands out for the lyrical accessibility of her work. Hers is a poetry of flesh, indiscretion, and the divine all rolled into one. For Anghelaki-Rooke the body is a passageway anchoring the abstract metaphysics of myth in the rituals of everyday life. It is through the body that everything makes sense. As she once said in an interview: 'I do not distinguish the soul from the body and from all the mystery of existence… Everything I transform into poetry must first come through the body. My question is always how will the body react? To the weather, to aging, to sickness, to a storm, to love? The highest ideas, the loftiest concepts, depend on the morning cough…'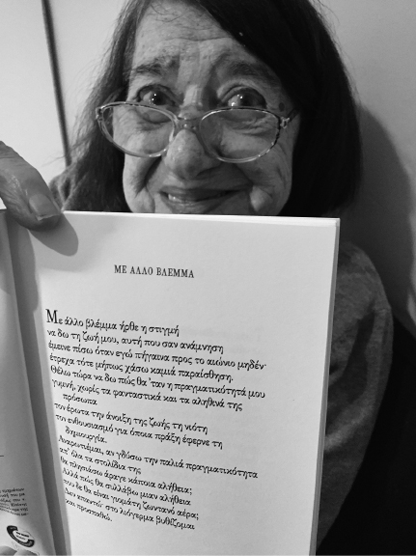 The poet holding up the poem 'With Other Eyes' for the translator last summer.
She is the author of more than twenty books of poetry and numerous translations (Pushkin, Plath, Heaney). Her own work has been translated into more than a dozen languages. She won the Greek National Poetry Prize (1985), the Academy's Poetry Prize (2000) and the National Lifetime Achievement in Literature Prize (2014). Her home was on the island of Aegina.
[
PNR
will publish new translations of the poet's work by Karen Van Dyck in the next issue.]
And from Chile… ·
Neil Davidson writes
: Armando Uribe died in Santiago on the night of 22–23 January 2020, aged eighty-six. He had been widely regarded in Chile and beyond as the country's foremost living poet. He first published in 1954 and is often considered part of the Generación del 50 with poets such as Enrique Lihn and David Rosenmann-Taub, although he himself looked to Montale, Ungaretti, Pound and Browning and, in his verse forms, to the Spanish Golden Age and earlier. From first to last, his mainly short lyrics dealt with death, a Christian God he was constrained to believe in and raged against, boredom and anguish, and his own and others' baseness and folly, being saved from monotony by humour and an inexhaustible capacity for contemptuous self-exposure. He was a lawyer who rose to become director general of the diplomatic corps and spent the years before Allende's election in Washington, distilling what he learned there after the coup in a political tract,
The Black Book of American Intervention in Chile
, which was translated into numerous languages. Returning from exile in 1989, he was debarred from positions of influence by his contempt for everyone he considered to have compromised with and perpetuated the dictatorship – almost the entire political and business class. 'Cloistering' himself in his home to await death, he discovered a new career as an oracle and consummate entertainer whose unsparing views on all topics were eagerly sought: a position he retained until the end. I shall remember him as the person who, in his books and the few conversations I was able to have with him, did more than anyone to make me aware of the obstinate survival beneath a homogenised surface of an older Chile of great beauty and distinction.
Roddy Lumsden is Dead ·
And now (2020) he really is dead, fulfilling that premature prophesy, though he was only 53 when the actual end came in January. His relatively short publishing life began in 1997 with
Yeah Yeah
and ended with his T.S. Eliot Prize shortlisted final collection
So Glad I'm Me
(2017). His
Guardian
obituarist Neil Cooper wrote, 'As a teacher, editor, mentor and champion of younger writers, Lumsden's influence on a new generation of British poets is immeasurable. He nurtured hundreds of writers, both for the generation-defining anthology,
Identity Parade: New British & Irish Poets
(2010) and beyond. He also channelled his astonishing facility for obscure words and facts into Vitamin Q: a temple of trivia lists and curious words (2004).'
At this year's T.S. Eliot Awards his influence was acknowledged by Ian McMillan: 'Many people here will owe the way they write to Roddy Lumsden.'
David Wright ·
To celebrate 100 years since the birth of the poet David Wright, a group of friends and admirers will gather to read a selection of poems from 7 p.m. to 8 p.m. on Friday 29 May 2020 at the Freemasons' Arms, 81–82 Long Acre, Covent Garden, London WC2E 9NG. Admission is free. A pay bar is available.
This item is taken from PN Review 252, Volume 46 Number 4, March - April 2020.