This review is taken from PN Review 251, Volume 46 Number 3, January - February 2020.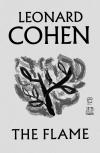 The Old Soft Shoe
Leonard Cohen, The Flame (Canongate) £22
The Flame
is Leonard Cohen's last book in a long, productive and honoured career as a poet, singer/songwriter, performer and artist. He was assembling it when he died in 2018, aged 82, and it was completed by his son and two friends and colleagues. The book very much has the feel of a summation or a capstone of his career, consisting of three sections: final poems; lyrics to his last albums; and a hefty selection of entries from Cohen's creative notebooks. The volume is illustrated by Cohen's drawings, mostly full faced self portraits, sometimes accompanied by commentary and tag lines. Cohen's devoted fans, and they are legion, will want
The Flame
both as a final homage and on its merits.
Being in some sense a memorial volume doesn't make it, or Cohen's career, impervious to criticism, however. One of Cohen's hallmarks has always been an open vulnerability about masculinity and it's – or his – discontents: sex, work, failure, the uneasy roles of lover, husband, father, citizen. It's a style crafted in the mid 1960s as the older certainties and rigidities about masculinity crumbled under cultural changes ranging from the Civil Rights movement and feminism to the War and Vietnam and the popularization of soft drugs. I associate it especially with a university culture that favored introspection and self-analysis, sometimes to excess:
Sometimes it gets so lonely
I don't know what to do
I'd trade my stash of boredom
For a little hit or you
In the 1960s and '70s – and even now for ...
The page you have requested is restricted to subscribers only. Please enter your username and password and click on 'Continue'.
If you have forgotten your username and password, please enter the email address you used when you joined. Your login details will then be emailed to the address specified.
If you are not a subscriber and would like to enjoy the
271
issues containing over
11,000
poems, articles, reports, interviews and reviews, why not
subscribe
to the website today?