This review is taken from PN Review 251, Volume 46 Number 3, January - February 2020.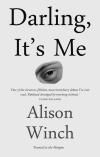 Wanting to be
Mary Jean Chan, Flèche (Faber) £10.99;
Chen Chen, When I Grow Up I Want to Be a List of Further Possibilities (Bloodaxe) £9.95;
Alison Winch, Darling, It's Me (Penned in the Margins) £9.99
With a debut collection as sure-footed as Mary Jean Chan's
Flèche,
I'm tempted towards the fencing metaphor which animates a finely balanced and pointed book. Such a temptation, however, is only a reflection of Chan's more profound strength: that she is one of those rare poets who leave you looking up with a sense that you can engage even the smallest part of the world around you with a much greater intensity. This is far more than the telling description which makes one see things afresh, though there are many of those. Intensity implies tension, and this book bristles with it, though its mesh is woven with great beauty and poise.
What's extraordinary is the fierce battle taking place between the poet and her mother, bout after bout of it, offence and defence, parry and riposte of anger and rejection and love on both sides. It is a battle which bleeds out into other relations: the ambivalence of a woman from Hong Kong writing in the English language, in the white world, in the straight world.
Tellingly, the book opens in the context of an exercise of authority which is also a reversal of it: the Cultural Revolution. The poet's mother relates dark fables drawn from this time, starting with adolescents slapping their teacher: 'their hands a stampede, their mouths deep trenches of bone'. We're invited to a scene of original trauma that has repercussions throughout the work, and in 'Conversation with Fantasy Mother', we see the attempt to compensate:
Dear fantasy mother thank you
for ...
The page you have requested is restricted to subscribers only. Please enter your username and password and click on 'Continue'.
If you have forgotten your username and password, please enter the email address you used when you joined. Your login details will then be emailed to the address specified.
If you are not a subscriber and would like to enjoy the
271
issues containing over
11,000
poems, articles, reports, interviews and reviews, why not
subscribe
to the website today?