This article is taken from PN Review 251, Volume 46 Number 3, January - February 2020.
Pictures from the Rylands Library
48. Sleep Mode: Resistance Isn't Futile
Bound in wood and backed in leather an eleventh century Gospel book sits before me closed and unread, stubbornly box-like. Once opened, its vellum pages belie its forbidding exterior to reveal ethereal visions, which picture episodes from the Christian story. Shimmering in alchemical gold, verdigris and orpiment, the scene set before us is the first Easter Sunday. In the dark of night before dawn, three women (Mary Magdalene, Mary the mother of James and Salome/Joanna) arrive to anoint Christ's crucified body after the Sabbath. Dismayed to find his tomb deserted and grave clothes discarded, they are greeted by an angel who announces the resurrection, his face 'shines like lightening; his garments white as snow' (Matthew).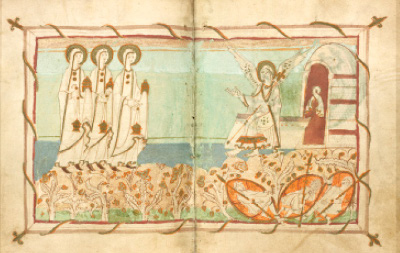 In contrast to M.R. James, who dismissed this drawing as 'rough and feeble' I find much within it to delight; the compulsive brickwork of the tomb, the angel's fluttering oscillation, the exuberant knotty forest thicket, and the soaring Lombardy poplar slender height of the women, as if borrowed from the nuns in Muriel Spark's Abbess of Crewe. But the detail I like best within the overall composition is the depiction of the figures of the three soldiers on the lower right-hand side (shown in detail here). Charged with the responsibility of guarding Christ's tomb they are pictured, derelict in their duty with spears at rest, cradled in shields of an orange so vivid as to anticipate the palettes of interior designers of ...
The page you have requested is restricted to subscribers only. Please enter your username and password and click on 'Continue'.
If you have forgotten your username and password, please enter the email address you used when you joined. Your login details will then be emailed to the address specified.
If you are not a subscriber and would like to enjoy the
267
issues containing over
10,800
poems, articles, reports, interviews and reviews, why not
subscribe
to the website today?