This article is taken from PN Review 250, Volume 46 Number 2, November - December 2019.
Interactions
1. Island and Etching Plate
'We have a world that is tormented and torn and divided into all sorts of compartments, and the bridges between these cultures are very difficult to sustain. But they do exist. They can be found. They can be discovered and rediscovered, provided that there is a different kind of rhythm which requires us to read backwards and forwards, to read an image not simply in a linear way.'
Wilson Harris,
The Radical Imagination
With around 1,500 residents, the South Pacific coral island of Niue is the least populous nation on earth. Born there in 1962, painter-poet John Puhiatau Pule spent much of his life in New Zealand before returning to the family village of Liku in 2015. By that time, Pule and I had been intermittently working on etchings together for five years. We convened for a stint of collaborative printmaking in his newly built studio-house in August of that year. Both of us inspired by Derek Walcott's soulful recollection of of learning to read Homer under a mango tree, we sat on the fresh carpentry of his porch, with a giant uga (land crab) boiling on a nearby campfire, and set to work on some bitumen-covered etching plates.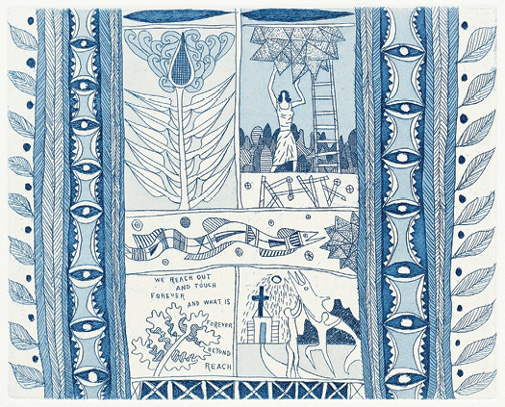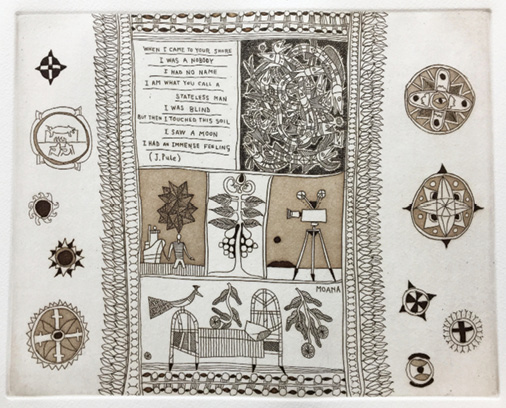 Pule's relocation to The Rock (as ...
The page you have requested is restricted to subscribers only. Please enter your username and password and click on 'Continue'.
If you have forgotten your username and password, please enter the email address you used when you joined. Your login details will then be emailed to the address specified.
If you are not a subscriber and would like to enjoy the
271
issues containing over
11,000
poems, articles, reports, interviews and reviews, why not
subscribe
to the website today?