This article is taken from PN Review 250, Volume 46 Number 2, November - December 2019.
Pictures from the Rylands Library
47. 'Sorry about the focus, it was a selfie'1: On Mediating the Self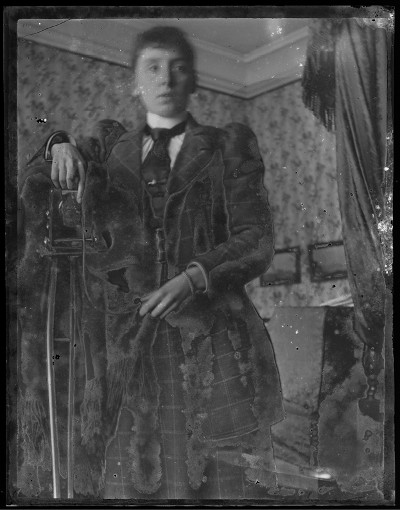 The source of the photograph shown here was made from a gelatin dry plate negative. It comprised a piece of glass, some three and a quarter inches square, coated in a light sensitive emulsion. Once loaded into the dark interior of a camera, it captured the shadow of the objects set before it as the lens winked its eye to expose it to light for less than a second. Once removed, the negative was developed and processed to create 'positive' versions of the spectral emanations fixed within its surface.
This dry plate negative is one of over a thousand in the Langford Brooke photography collection. They were taken between 1908 and 1920 by various members of this well-to-do gentry family and feature everyday activities on their landed estate. Not only do they provide a detailed record of life at Mere Old Hall in Cheshire; they also witness how people in previous eras produced and circulated photographs to share their experiences with kith and kin and to cement familial bonds and social networks within the 'face-to-face contact' of their immediate and actual communities (Benedict Anderson).
No photographic prints have survived in this collection. The team of photographers in the Rylands migrated the content of the original negatives into digital positive images using a networked camera. Through this process of remediation, analogue objects became digital images and 'part of a digital eco system…connected to a series of sophisticated software applications' (Nathan Jurgenson) which can now be used and disseminated in ...
The page you have requested is restricted to subscribers only. Please enter your username and password and click on 'Continue'.
If you have forgotten your username and password, please enter the email address you used when you joined. Your login details will then be emailed to the address specified.
If you are not a subscriber and would like to enjoy the
271
issues containing over
11,000
poems, articles, reports, interviews and reviews, why not
subscribe
to the website today?