This review is taken from PN Review 249, Volume 46 Number 1, September - October 2019.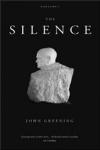 A Bunch of Keys
John Greening, The Silence (Carcanet) £9.99
Jean Sibelius banished silence from his last symphony, his seventh, compressing the traditional four-part structure into a single movement without pause or rest. But fate would respond in kind, condemning the composer in the final thirty years of his life to virtual silence. This was not the silence of Beethoven, whose genius poured unrestrainedly during his fifteen or more years of deafness: Sibelius's was a creative silence. Except for Tapiola and the incidental music to The Tempest, he produced no major compositions after 1924. For years he reported working on an eighth symphony, but it is generally accepted that in or around 1945 Sibelius burned all the manuscripts and finished copies of this work in the green-tiled fireplace of his dining room, following which he attempted nothing further. The mystery of this creative lacuna is the subject of John Greening's majestic poem, 'The Silence', which occupies the last thirty-two pages of his new collection by the same name.

In this narrative, Sibelius's conflict with silence becomes a compelling meditation on the artist's struggle to create. The poem's epigraph from Little Gidding ('So I assumed a double part […]') points to an affinity between poet and composer, and in one sardonic confession the poet finds himself amidst Sibelius's agony: 'Every time a rival succeeds, something that was greening withers.' One should not look too closely for autobiographical parallels, however, for Greening has been quite voluble: in just the last six years he has produced, in addition to three edited books, Knot, To the War Poets, Heath ...
The page you have requested is restricted to subscribers only. Please enter your username and password and click on 'Continue'.
If you have forgotten your username and password, please enter the email address you used when you joined. Your login details will then be emailed to the address specified.
If you are not a subscriber and would like to enjoy the
266
issues containing over
10,800
poems, articles, reports, interviews and reviews, why not
subscribe
to the website today?