This article is taken from PN Review 249, Volume 46 Number 1, September - October 2019.
Pictures from the Rylands Library
46. Figures of Speech: Speaking Relics in Poems, Pictures and Forms
A MINIATURE WINDOW, a few millimeters wide, opens into the text of a medieval prayer book. It contains a tiny painting made by the Parisian artist Pierre Remiet in the late fourteenth century and is known as the 'Memoria of Relics'. Remiet's squirrel-hair paintbrush conjures a picture of flawless delicacy replete with detail, colour and light. It shows a vermillion reredos studded with jewels shrouding an altar decorated with relics enshrined in reliquaries of various kinds that gleam with gold and sparkling gems, inspiring the devotion of the reader.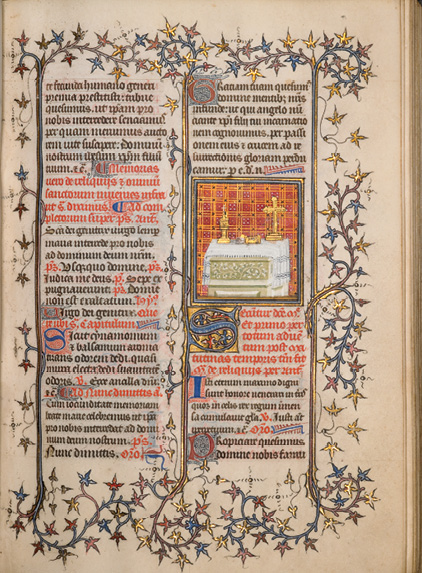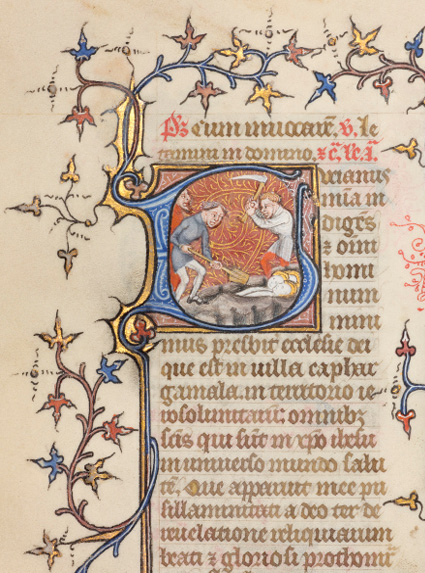 Held as objects of sacred power, relics were the fragments, parts or bodily fluids of the saints or Christ and were revered for their special access to the divine and their ability to act as conduits to the miraculous (Caroline Walker Bynum). The practice of collecting relics and exalting them on altars emerged during the fourth and fifth centuries with the recovery of the True Cross by St Helena in 326 CE and the invention (discovery) of the body of St Stephen in 415 CE (also pictured here).
Adorning relics in exquisitely embellished reliquaries developed as part of the cult to 'reflect honour upon relics and condition their reception by viewers' (Cynthia Hahn), and also to evoke associations with the Heavenly Jerusalem through the meaningful use of precious metals and stones.
In addition, the shape of ...
The page you have requested is restricted to subscribers only. Please enter your username and password and click on 'Continue'.
If you have forgotten your username and password, please enter the email address you used when you joined. Your login details will then be emailed to the address specified.
If you are not a subscriber and would like to enjoy the
267
issues containing over
10,800
poems, articles, reports, interviews and reviews, why not
subscribe
to the website today?