This review is taken from PN Review 248, Volume 45 Number 6, July - August 2019.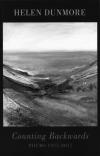 Ordinary Wonder
Helen Dunmore, Counting Backwards: Poems 1975–2017 (Bloodaxe Books) £14.99
Counting Backwards: Poems 1975–2017
is a generous selection of Helen Dunmore's poetry, adding three subsequent collections and some earlier poems to
Out of the Blue: Poems 1975–2001
. Collections are given in reverse chronological order, and there's an index of titles and first lines. Print is set off by lavish white space, letting the text breathe easily on the page.
Reverse chronology works well: Dunmore's poetry deepened with time so the book makes a powerful start. She was always good, though, and in some ways her early work offers very different satisfactions to what came later.
Elements of what I most admire her for appear in the late 'September Rain', written as she neared her death: her empathy, her lack of self-centredness, her continuing joy in life and of course her technical skill and originality:

There are three surfers out back.
Now the rain's pulse is doubled, the wave
Is not to be caught. Are they lost in the dark

Do they know where the coast is combed with light
Or is there only the swell, lifting
Back to the beginning

When they ran down the hill like children
Through this rain, September rain,
And the sea opened its breast to them?

I lie and listen
And the life in me stirs like a tide
That knows when it must be gone.

I am on the deep deep water
Lightly held by ...
The page you have requested is restricted to subscribers only. Please enter your username and password and click on 'Continue'.
If you have forgotten your username and password, please enter the email address you used when you joined. Your login details will then be emailed to the address specified.
If you are not a subscriber and would like to enjoy the
272
issues containing over
11,000
poems, articles, reports, interviews and reviews, why not
subscribe
to the website today?