This review is taken from PN Review 248, Volume 45 Number 6, July - August 2019.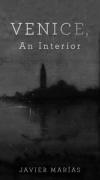 'things we carry with us'
Javier Marías, Venice: An Interior (Penguin) £5
'The dead in Venice have their own island' writes Javier Marías as he wanders the tombs covering San Michele. Their inscriptions signal a place 'firmly rooted in life rather than addressed to the hereafter'. But this is the life of foreign poets who came here to die and tourists who arrive to watch the dead; Venice is a city of ghosts in which Venetians themselves are 'hard to spot', hiding behind shutters or leaving the city altogether. On the cover of this little reflection, Penguin single out Marías's description of a 'hyper-city'. In 1988, when the book was first published, the prefix was fashionable. It recalls Umberto Eco's
Travels in Hyperreality
and Jean Baudrillard's
Simulacra and Simulation
; it also anticipates Marc Auge's concept of non-places and the imaginative value of urban ruins. Like these writers, Marías is outraged and inspired by uncanny emptiness and space as 'the only true repository of time, of past time':

To say that Venice is an interior is a possible summation of everything I've said so far. It means that it is self-sufficient, that this same self-sufficiency is what creates that 'endless imaginary fragmentation': the narrow becomes the wide, the limited becomes the infinite, the identical becomes the distinct, the timeless becomes transient.

There is truth in this gloss of the book's subtitle, but only in the sense of the post-modernism we already know. To take this moment at face value is to be blinded by Marías's own writerly smoke and mirrors. To strip ...
The page you have requested is restricted to subscribers only. Please enter your username and password and click on 'Continue'.
If you have forgotten your username and password, please enter the email address you used when you joined. Your login details will then be emailed to the address specified.
If you are not a subscriber and would like to enjoy the
271
issues containing over
11,000
poems, articles, reports, interviews and reviews, why not
subscribe
to the website today?