This review is taken from PN Review 248, Volume 45 Number 6, July - August 2019.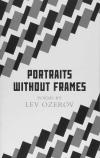 'His widow is making inquiries'
Lev Ozerov, Portraits Without Frames (eds) Robert Chandler and Boris Dralyuk, translated by Maria Bloshteyn, Robert Chandler, Boris Dralyuk and Irina Mashinski (Granta) £14.99
In 2015 Robert Chandler, Boris Dralyuk and Irina Mashinski published The Penguin Book of Russian Poetry. It included fifty twentieth-century poets. Many were famous. Pasternak, Mandelstam, Tsvetaeva and Akhmatova. Others were barely known to English-speaking readers, including Lev Ozerov. Now these translators, joined by Maria Bloshteyn, have translated a whole book by Ozerov, Portraits Without Frames, poems about some of the great Soviet creative figures in the shadow of Stalin.

Ozerov was born Lev Adolfovich Goldberg in Kyiv. He was born less than a fortnight after the outbreak of World War I. Big History was to hang over his life and work. In the 1930s he began to publish poems under various names and eventually as Lev Ozerov, less Jewish than Goldberg. In 1940 he published his first book of poems. Fourteen more collections followed, as well as two volumes of selected verse.

Ozerov returned to Moscow after the War, teaching and working as poetry editor of the journal October. He was dismissed from both posts during the anti-Semitic purges. After a 'seven-year hiatus' (a haunting phrase in Boris Dralyuk's excellent Introduction) he joined the Translation Faculty at Moscow's Maxim Gorky Literary Institute.

Ozerov played an important part in rehabilitating a number of major writers. He helped Zabolotsky return to print after eight years in the Gulag. In 1959 he published an article about Akhmatova, the first review of her poetry after years of silence, breaking the 'blockade' against her work. In 1965 he published a scholarly edition of Pasternak's ...
The page you have requested is restricted to subscribers only. Please enter your username and password and click on 'Continue'.
If you have forgotten your username and password, please enter the email address you used when you joined. Your login details will then be emailed to the address specified.
If you are not a subscriber and would like to enjoy the
266
issues containing over
10,800
poems, articles, reports, interviews and reviews, why not
subscribe
to the website today?