This review is taken from PN Review 247, Volume 45 Number 5, May - June 2019.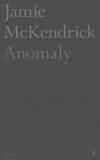 Practice and Theory
Jamie McKendrick, Anomaly (Faber) £14.99; Philip Hancock, City Works Dept (CB Editions) £8.99
'I keep forgetting if this is / Lucerne or Geneva, Geneva or Lucerne', writes Jamie McKendrick in his characteristically well-travelled new collection,
Anomaly
. This, seventh, gathering of poetical dispatches from across Europe reminds us that his erudition is a borderless, cosmopolitan one, lightly borne if sometimes erring into caricature: 'I was eating alone in Arezzo, / eavesdropping on the conversation of Yves / Bonnefoy who happened to be at the next table'. This is a Renaissance man whose learnedness has opened doors beyond the world of 'petty, internecine poetry': subversion is gate-crashing the British Council's party at the 'glut of money and art' that is the Venice Biennale. Inside, he reflects that the Venetian artist Canaletto lost his inspiration after living for a time in London; if he were there now, 'he'd be a bargaining chip'. McKendrick conforms to the English intelligentsia's traditional embarrassment with home, Brexit only confirming a belief in its benightedness. For him, England's tastelessness is encapsulated by Liverpool's fake Gothic, 'marzipannish pink' St Michael-in-the-Hamlet church which is 'still, / worse luck, more home to me / than any mosque or duomo / in peerless travertine or marble'.
England is embodied, too, by his father, reduced to a shrunken realm of palliative care, reliving the war, the so-called national sense of 'fair play' one of the last things to fade. Father informs son of the German colonel near Bremen he patched up as best he could:

In the night he shouts for my sister,
demands she call an ambulance
this minute, can't she ...
The page you have requested is restricted to subscribers only. Please enter your username and password and click on 'Continue'.
If you have forgotten your username and password, please enter the email address you used when you joined. Your login details will then be emailed to the address specified.
If you are not a subscriber and would like to enjoy the
280
issues containing over
11,300
poems, articles, reports, interviews and reviews, why not
subscribe
to the website today?