This review is taken from PN Review 247, Volume 45 Number 5, May - June 2019.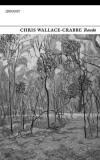 'more or less everything'
Chris Wallace-Crabbe, Rondo (Carcanet) £9.99
In
Rondo
(a word which derives from an Old French term meaning 'round'), Wallace-Crabbe revisits themes which occupied his earlier poems. This is not, however, meant to discount the pleasant variety of this collection and his poetry; there are still a hundred things to see before we get back home. Forms and themes adjoin to create a landscape like the diverse Aussie ones Wallace­Crabbe describes: the poems which don't rhyme and scan sit with poems in quatrains and couplets. There is even a villanelle which undercuts the traditional pastoral theme by evoking hayfever, and this mix of the formal and informal characterises Wallace-Crabbe's work.
What he does best is make you re-examine the things you've seen many times before; in the poem 'Bits and Pieces' he affirmed the importance of comfortable underwear (often taken for granted) and
Rondo
includes a poem about a sharpener, which begins:

Soft cedar turns against this blade
Coming away in aromatic flakes.
The red of a Staedtler stains an edge
Of these rising, falling petals […]

Here Wallace-Crabbe hasn't just adorned the pencil with the characteristics of a flower; the polysyllabic and sensuous word 'aromatic' gives it gravity and beauty, and the slow fourth line ensures the reader doesn't pass by it too quickly. Wallace-Crabbe shows us that the everyday is important, which is why his poetry is full of demotic diction: 'she's got the game by the balls', 'Fair enough', 'Get real'.
His colloquialism facilitates even his poems on ...
The page you have requested is restricted to subscribers only. Please enter your username and password and click on 'Continue'.
If you have forgotten your username and password, please enter the email address you used when you joined. Your login details will then be emailed to the address specified.
If you are not a subscriber and would like to enjoy the
266
issues containing over
10,800
poems, articles, reports, interviews and reviews, why not
subscribe
to the website today?