This review is taken from PN Review 247, Volume 45 Number 5, May - June 2019.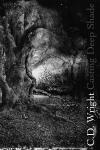 After Narrative
C.D. Wright, Casting Deep Shade (Copper Canyon Press) $32
Casting Deep Shade
, a second posthumous publication by C.D. Wright, is a one-hundred-and-sixty-page intensive study of the beech tree. One wonders if, had Wright lived, the book might have been reshaped into something more aligned with the verse of her early collaborative project with photographer Deborah Luster,
One Big Self
, about the world of those incarcerated in Louisiana's state prisons. As it is,
Casting Deep Shade
is more encyclopedic than verse, a book of lore the experimental Wright makes feel effortless. While more prose than poetry, it is poetic in temperament, temperature. True to the quirky and unmistakable voice of Wright's oeuvre,
Casting Deep Shade
is a commonplace book of nature for a world entering an artificial age.
In
Casting Deep Shade
– with its monomaniacal reflections on, of all things, the beech – the tree is all (Joyce Kilmer's poem springs to mind, and does, in fact, make an appearance). This book about the beech tree has all the considered haphazardness, the leaping history, of Anne Carson's
Nox
, as Wright forms narratives that range disjointedly from family snapshot to human history, from esoteric information to sharp lyric. Wright focuses on the moments when beech intersects with the human, as in this vignette about painter David Hockney (which ends in a woodpile):

In the spring of 2009 when David Hockney returned to a familiar copse to paint the beeches and sycamores near his home, he found 'a massacre'. Planted a hundred years ago as a shelter for farm building and fields, they had been felled ...
The page you have requested is restricted to subscribers only. Please enter your username and password and click on 'Continue'.
If you have forgotten your username and password, please enter the email address you used when you joined. Your login details will then be emailed to the address specified.
If you are not a subscriber and would like to enjoy the
266
issues containing over
10,800
poems, articles, reports, interviews and reviews, why not
subscribe
to the website today?