This article is taken from PN Review 247, Volume 45 Number 5, May - June 2019.
A New Divan translated by Bill Manhire & Sinéad Morrissey
A Lyrical Dialogue between East & West
ABBAS BEYDOUN

Suleika and Marilyn
English version by Bill Manhire, based on a literal translation from the Arabic by Reem Ghanayem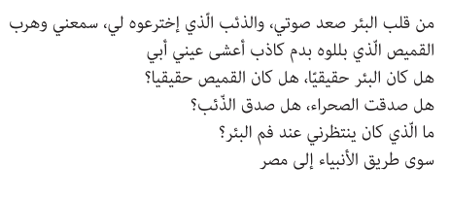 I heard myself call from deep in the well.
The wolf my brothers invented, he listened and fled.
It wasn't my blood on the shirt, but still our father was blinded.
Was there a real well? A real shirt?
Was the desert a true place? Was the wolf himself actual?
What awaited me up on the earth's surface
but the Prophets' Road to Egypt?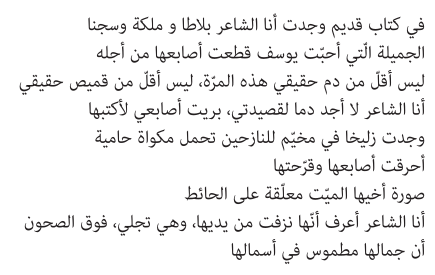 In an ancient book
I found a court, a queen, a keep.
Suleika loved Yusuf and cut her fingers…
Oh, real blood that time; a real shirt, too.

I am searching for blood for my poem.
My fingers grow sharp as I write it.
I find Suleika in a refugee camp.
The hot iron she carries
burns and blisters her fingers.
On the wall, a photo of her dead brother;
I can see how her hands bleed as she does the dishes,
how her beauty is there in the rags she wears.


And now I am thinking of Marilyn Monroe.
She took her life because the world is made of pain
plus tiny scraps of love. She shone ...
The page you have requested is restricted to subscribers only. Please enter your username and password and click on 'Continue'.
If you have forgotten your username and password, please enter the email address you used when you joined. Your login details will then be emailed to the address specified.
If you are not a subscriber and would like to enjoy the
271
issues containing over
11,000
poems, articles, reports, interviews and reviews, why not
subscribe
to the website today?