This review is taken from PN Review 246, Volume 45 Number 4, March - April 2019.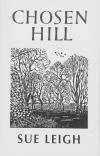 Masterly Control
Chosen Hill, Sue Leigh (Two Rivers) £9.99; Shrines of Upper Austria, Phoebe Power (Carcanet) £9.99
'Every century has its tremors', Sue Leigh writes in her debut collection,
Chosen Hill
, and these existential rhythms break out in her poems, as in those to the experimental composers John Cage and Philip Glass – the former captivated with the utilisation of time, having written the world's longest-ever piece of music (lasting hundreds of years), the latter a renowned master of repetition. In the poem 'The artist in old age', Leigh decides that an obsessive Hokusai must have 'understood' the intrinsic relationship between time and nature:

He makes thirty-six views of Fuji.

When he is ninety he thinks
he will understand the mystery.

He will become the mountain.

Leigh takes this idea of complete immersion in the environment a step further in 'Nan Shepherd in the Cairngorms': 'To be with the mountain / as if to know one place / might be enough / for a lifetime'. And still further, in 'Altai burial', the excavated body of a woman who lived in Siberia around 500 BCE is given voice; she has been aware of time passing over her grave, feeling the tremors from 'riders cantering over the / steppe', and a soaking from the 'first hush of snow' that fell and stayed, freezing her remains until the intrusion of the archaeologists.
The word 'snow' or derivatives of it appear seventeen times in
Chosen Hill
, either as an ominous foreshadowing of erasure – during her brother's last days there is a 'sudden late fall of snow' – or ...
The page you have requested is restricted to subscribers only. Please enter your username and password and click on 'Continue'.
If you have forgotten your username and password, please enter the email address you used when you joined. Your login details will then be emailed to the address specified.
If you are not a subscriber and would like to enjoy the
271
issues containing over
11,000
poems, articles, reports, interviews and reviews, why not
subscribe
to the website today?