This review is taken from PN Review 246, Volume 45 Number 4, March - April 2019.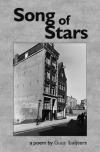 Muffled Tumult

Song of Stars, Guus Luitjers, tr. Marian De Vooght; Les Chambres, Louis Aragon, tr. John Manson
'All memory is individual, unreproducible – it dies with each person. What is called collective memory is not a remembering but a stipulating.' Susan Sontag was writing, specifically, about visual representations of human suffering, presented to us as testament and evidence; there is no such record of the life of the subject of
Song of Stars
, eleven-year-old Sientje Abram. She was killed in Auschwitz in 1942; Guus Luitjers's long poem is an attempt to reconstruct the events leading to her murder, oscillating between memory and stipulation. The poem is arranged in ten sections each split between Luitjers's voice and that of Sientje, with Luitjers progressively taking over until a final section lists the names of the three hundred and thirty-one children deported from Rapensburgerstraat, Amsterdam, Sientje among them.
The translator Marian De Vooght describes Sientje, as portrayed in the poem, as 'a chatterbox, filled to the brim with life, but growing quieter as her city changes'. Initially, Sientje offers anecdotes about her games and daily activity, mixed with frank confusion about 'what Jews are' and the meaning of her mother's Yiddish as much as her teacher's sudden anger; by the time of her deportation her tone is made harder, more certain:

They write it all down who you
are where you're from when
you were born what do they
care they stay here

Nevertheless, even early on in the poem, Sientje, or the poem that poses as her voice, has an acute sense ...
The page you have requested is restricted to subscribers only. Please enter your username and password and click on 'Continue'.
If you have forgotten your username and password, please enter the email address you used when you joined. Your login details will then be emailed to the address specified.
If you are not a subscriber and would like to enjoy the
271
issues containing over
11,000
poems, articles, reports, interviews and reviews, why not
subscribe
to the website today?