This review is taken from PN Review 245, Volume 45 Number 3, January - February 2019.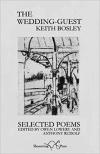 Diction and Contradiction
Keith Bosley, The Wedding Guest: Selected Poems, edited by Owen Lowery and Anthony Rudolf, (Shoestring Press) £12
There is a poignancy about the publication of this volume of Keith Bosley's selected verse. It is the first retrospective of his work, an attempt to give a sense of the range of a poet who had gained recognition primarily for his outstanding verse translations from the Finnish, in particular their national epic, The Kalevela. Bosley, who had been in ill health for some time, held the volume in his hands but died within a few months of the collection appearing, so an opportunity to assess the body of his own poetry is timely.

Anthony Rudolf, in his preface, reminds us that those who are highly regarded for their translations often find their own poetry neglected, and this is certainly the case with Bosley.

What emerges from this volume is a man of contradictions: he was rooted in the landscapes of Berkshire, documenting both its idyllic pastoral and the suburban, railway-driven, car-driven creep of the nineteenth and twentieth centuries. Yet he voyaged far out in his imagination, both as a gifted linguist and translator and also, for many years, as one of the BBC World Service's most well-known and loved presenters. He was an accomplished musician and local church organist, whose marriage to the Finnish harpist, Satu Salo, led to a decades-long engagement with the imaginative world of a country far to the north and east and far, far wilder than the gentle banks of the Thames. Bosley was equally at home in French, which he read at university and his versions from this language ...
The page you have requested is restricted to subscribers only. Please enter your username and password and click on 'Continue'.
If you have forgotten your username and password, please enter the email address you used when you joined. Your login details will then be emailed to the address specified.
If you are not a subscriber and would like to enjoy the
266
issues containing over
10,800
poems, articles, reports, interviews and reviews, why not
subscribe
to the website today?