This review is taken from PN Review 245, Volume 45 Number 3, January - February 2019.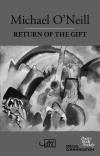 Holding On
Michael O'Neill, Return of the Gift (Arc) £9.99
Michael O'Neill's fourth collection of poems,
Return of the Gift
, is based on the conceit that the best verse comes from the anteroom in which sins are shriven, burnt off, cast aside, before the soul makes its way to another place. It is only fitting that the gaze of such poetry be ill­-disposed to flatter, unforgiving, cold. This is a sizeable collection of a hundred pages. There are many distinguished poems and it is difficult to know where to start. One of my favourites is 'Stalker':

'Cease and desist' more or less worked,
though malignancy still lurked
on the net, in the latest
misspelt post.

In the end, it's all grist;
the episode taught him one lesson,
giving, as it did, the lie
to those who deny
there is a place called purgatory,

but, were they to reply,
'In that case,
what was your sin?',
he'd be, in this instance, at a loss,

have to fall back on 'being born'.

The idea that the stalker, faced with the threat of legal action, might retreat into the relative safety of anonymous trolling, is transformed by that multisyllabic, guilt-ridden, shameless word 'malignancy' – and by 'lurked', the persistence of which finds an emphatic chime in 'worked'. Such resonances, more unsettling than the nuisance-value of an actual stalker, direct attention to the malignant, lurking cells which are the true subject of the poem. 'In the end, ...
The page you have requested is restricted to subscribers only. Please enter your username and password and click on 'Continue'.
If you have forgotten your username and password, please enter the email address you used when you joined. Your login details will then be emailed to the address specified.
If you are not a subscriber and would like to enjoy the
262
issues containing over
10,600
poems, articles, reports, interviews and reviews, why not
subscribe
to the website today?