This review is taken from PN Review 245, Volume 45 Number 3, January - February 2019.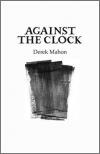 You Thought You'd Done
Derek Mahon, Against the Clock (Gallery Press) £9.50
Derek Mahon has set himself a hard act to follow. His poetry, as gathered in New Collected Poems (2011), warrants the widest possible readership. Muscular, impassioned and meticulously wrought, Mahon's best poems (and the hit rate, at least in the first three quarters of the Collected, is very high indeed) deserve to be read by anyone who turns to theatre, jazz, novels, biography and opera in order to help them live their lives. Anyone who takes Marilynne Robinson or George Saunders seriously as contemporary novelists, should take Mahon no less seriously as a contemporary poet. He is one of Ezra Pound's 'Good writers […] who keep the language efficient. That is to say, keep it accurate, keep it clear.'

Because Mahon has set the bar higher than most of his contemporaries, the reader turns to Against the Clock – his first collection since the New Collected – with great expectations, and this is perhaps unfair. After the fire­spitting of 'New York Time', previously The Hudson Letter (1995), and 'Decadence', originally The Yellow Book (1997), Against the Clock lacks Mahon's incandescent rage. Nothing in the new collection is quite as accomplished as 'Courtyards in Delft', 'A Garage in Co. Cork', 'Inis Oírr', 'Afterlives' or those wonderful villanelles 'The Dawn Chorus' and 'Antarctica'. The unabashed 'A Birthday', celebrating his daughter's fortieth in Against the Clock, can't quite manage the sweet-and-sour brio of 'Yaddo, or A Month in the Country'. But then so much in the New Collected is so good that, not withstanding a late ...
The page you have requested is restricted to subscribers only. Please enter your username and password and click on 'Continue'.
If you have forgotten your username and password, please enter the email address you used when you joined. Your login details will then be emailed to the address specified.
If you are not a subscriber and would like to enjoy the
271
issues containing over
11,000
poems, articles, reports, interviews and reviews, why not
subscribe
to the website today?