This review is taken from PN Review 244, Volume 45 Number 2, November - December 2018.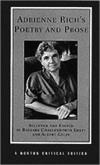 Evacuate the World
Adrienne Rich, Poetry and Prose, ed. Albert Gelpi, Barbara Charlesworth Gelpi & Brett C. Millier (Norton), £16.99
This is the second Norton Critical Edition of Rich's Poetry and Prose; and as such is a teaching edition of Rich's writing. It comprises poetry from Rich's first published volume, A Change of World, from 1955, through to her posthumous volume, Tonight no Poetry will Serve published in 2013. This book also contains a selection of Rich's prose published between 1964 and 2005. In addition, there are a range of reviews and criticism, again from a range of commentators from Helen Vendler to Sandra M. Gilbert.

That first collection was chosen by W.H. Auden for the Yale Younger Poets series. His introduction to that book is reprinted here, and in it, he comments that Rich, 'displays a modesty not so common at that age'. Rich was twenty-one when the book was published. That comment on modesty has been pulled out over the years and rather brandished against the later poetry Rich published. The books Diving into the Wreck (1973) and The Dream of a Common Language were the books that made her name as a feminist intellectual but were dismissed by Elizabeth Hardwick as 'extreme' and 'ridiculous', and Dana Gioia commented at the publication of Midnight Salvage in 1999, 'Rich is a major poet overburdened by the role of prophet. She remains an intellectual force, but she has almost vanished as a credible poet, and I for one lament the loss.'

Looking at this volume now, perhaps from the perspective of this side of the Atlantic, and with a certain distance of time, it is the judgement of ...
The page you have requested is restricted to subscribers only. Please enter your username and password and click on 'Continue'.
If you have forgotten your username and password, please enter the email address you used when you joined. Your login details will then be emailed to the address specified.
If you are not a subscriber and would like to enjoy the
271
issues containing over
11,000
poems, articles, reports, interviews and reviews, why not
subscribe
to the website today?