This review is taken from PN Review 244, Volume 45 Number 2, November - December 2018.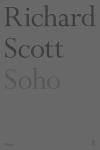 Cock-crow
Richard Scott, Solo (Faber), £10.99
Richard Scott opens a library copy of The Golden Treasury and, to compensate for its lack of gay poems, writes 'COCK' in the margin. In an act of queering that prefigures the writer he will later become, he doodles obscenities and adds a few choice quotations of his own, to supplement what must have seemed a pretty tinny treasury. I say Richard Scott does this, but it may only be the speaker of his poem 'Public Library, 1998', the first in this collection, who does. At any rate, it is Scott who writes 'COCK' in the margin of the poem.

There is more than whiff of the library about Soho. In his up-front Acknowledgements page, Scott goes the whole Kate Winslet, thanking not only the usual magazines, funders, editors and loved ones, but also Shakespeare, Socrates, Rilke, Hopkins, Genet, Eliot, Freud; and a whole swag of queer theorists: Valerie Traub, Eve Sedgwick, David Halperin, Leo Bersani, Michel Foucault...

In an interview on the Forward Arts Foundation website, Scott calls this 'an openly queer book, which is about gay shame, the search for homosexual ancestry and the vulnerability of queer bodies'. This sets it outside the boundaries of the the rainbow-flaggy, commercial version of gayness. 'I am the homosexual you / cannot be proud of', he says in one poem. No doubt uncomfortably for some readers, he is engaged in a serious task of putting the shame back into shameless. (One of the epigraphs dotted through the book is from Sedgwick: 'Shame, too, makes identity'.) ...
The page you have requested is restricted to subscribers only. Please enter your username and password and click on 'Continue'.
If you have forgotten your username and password, please enter the email address you used when you joined. Your login details will then be emailed to the address specified.
If you are not a subscriber and would like to enjoy the
266
issues containing over
10,800
poems, articles, reports, interviews and reviews, why not
subscribe
to the website today?