This review is taken from PN Review 243, Volume 45 Number 1, September - October 2018.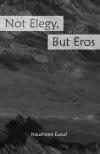 Debts to the Dead

Nausheen Eusuf, Not Elegy, But Eros (NYQ) $15.95;
Sheryl St Germain, The Small Door of Your Death (Autumn House) $17.95
Poetry can be a way of approaching the unbearable, of taming a loss and giving it aesthetic shape. Two recent collections adapt the time-honoured forms of elegies and prayers as they ask what we owe to the dead.

Nausheen Eusuf is a Bangladeshi poet currently studying for a PhD at Boston University. The title of her debut collection, Not Elegy, But Eros, playfully denies the very structure it so often employs. The table of contents is in fact rife with elegies, as well as prayers and odes, but these traditional modes function not as a constraint but as a starting point for richly alliterative and allusive verse that contrasts Bangladesh and America while paying homage to departed family members and those lost to violence and disaster.

The narrator's dead parents, sometimes addressed directly in the second person, are a ghostly presence pervading the book. The multi-part poem 'Ubi Sunt', calling to mind a recurring motif from elegiac poetry, asks 'Where are they now?' three times. 'Prayer to My Father' laments the former engineer's dementia and physical deterioration – 'Your own infrastructure in disarray' – and repeatedly begs for forgiveness in lines that liken the father to the deity: 'Forgive us, father, for the indignity / of the catheter'. In 'Musée des Beaux Morts', a tip of the hat to W.H. Auden, the narrator gives a tour of her late parents' artefact-filled house – textbooks, wedding photos, knick-knacks. The plush descriptions cease with a jolt in the final stanza as she sums up: 'Well, there you have it, folks, the ...
The page you have requested is restricted to subscribers only. Please enter your username and password and click on 'Continue'.
If you have forgotten your username and password, please enter the email address you used when you joined. Your login details will then be emailed to the address specified.
If you are not a subscriber and would like to enjoy the
271
issues containing over
11,000
poems, articles, reports, interviews and reviews, why not
subscribe
to the website today?