This review is taken from PN Review 243, Volume 45 Number 1, September - October 2018.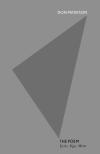 Making Sense

Don Paterson, The Poem: Lyric, Sign, Metre (Faber) £25
When giving your evidence, begin at the beginning and go on till you come to the end: then stop. This does sound like the definition of straightforward, no-nonsense, honest reasoning. To set out an argument from first principles is nonetheless a hell of a tricky thing to do not least because, unless you do happen to be a professional solipsist (which may yet be one broadly held definition of 'a poet'), you must always be aware that the end of your logic is the beginning of someone else's inquiry. To put it another way: beginnings and first principles, at least where poetry is concerned, are difficult to agree on.

Don Paterson's The Poem, a mammoth work best read without any hope of ending it, is both a simple cry for poetics to go back to first principles and a pretty thorough demonstration of why this is never as simple as it sounds. To begin with Paterson's beginning: the ur-form of poetry was 'easily memorisable speech' and it's ability to store vital information would, in primitive societies, have seen it acquire 'a reputation as a mantic art'. Poetry, it follows, is 'a naturally occurring mode of human speech' produced under two pressures: 'emotional urgency and temporal constraint', which, the conclusion states, 'discloses' to us 'the underlying unity' of the material world.

To recognise the mnemonic, the emotive, the spontaneous and above all the natural origins of whatever might've once been poetry is a fairly anodyne stance. To suggest that these qualities must therefore be the frames ...
The page you have requested is restricted to subscribers only. Please enter your username and password and click on 'Continue'.
If you have forgotten your username and password, please enter the email address you used when you joined. Your login details will then be emailed to the address specified.
If you are not a subscriber and would like to enjoy the
267
issues containing over
10,800
poems, articles, reports, interviews and reviews, why not
subscribe
to the website today?