This review is taken from PN Review 242, Volume 44 Number 6, July - August 2018.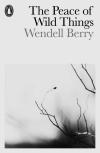 Home Ground

Wendell Berry The Peace of Wild Things (Penguin) £8.99
The Peace of Wild Things is a short selection of Wendell Berry's poetry from 1964 to the near present. Berry, now eighty-three, is a poet, novelist, teacher and farmer who is the Grand Old Man of American environmental activism. Starting out as an English professor, about forty years ago Berry bought a small farm in the Kentucky hills which became the personal and ideological centre for his writing and politics. There are many different varieties of nature in American nature writing and Berry's is that of subsistence farming and hardscrabble Appalachia. As such, he is of the strain of American individualism that stretches back to the Jeffersonian republicanism of the yeoman farmer and the Thoreau of both Walden and Civil Disobedience. An anti-modernist who is deeply distrustful of technology and its effects, Berry is also an off-shoot of the southern Agrarians of the 1930s, writers like Cleanth Brooks and Robert Penn Warren (both also Kentuckians) who 'took their stand' against the mainstream of American society, especially the instrumentality of modern American business. However, crucially, Berry, the Appalachian, is not burdened by the southern history of race and slavery. Berry isn't nostalgic and, indeed, history – aside from genealogy – barely figures in Berry's writings, especially in his poetry in which there are barely any people at all. Berry is not interested in agrarianism or pre-capitalist economic relations but in the connection of the inviolate, self-contained individual with the state of nature. There's a pre-lapsarian purity – an idealism – to Berry's 'nature': it's what he ...
The page you have requested is restricted to subscribers only. Please enter your username and password and click on 'Continue'.
If you have forgotten your username and password, please enter the email address you used when you joined. Your login details will then be emailed to the address specified.
If you are not a subscriber and would like to enjoy the
272
issues containing over
11,000
poems, articles, reports, interviews and reviews, why not
subscribe
to the website today?