This review is taken from PN Review 242, Volume 44 Number 6, July - August 2018.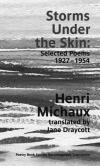 Arrestingly Peculiar

Henri Michaux, translated by Jane Draycott, Storms Under the Skin: Selected poems, 1927–1954 (Two Rivers Press) £9.99
Michaux was a painter as well as a poet. There's a strong sense of imaginative affinity with Surrealist painting in the first poem in the book, 'The Jetty'. As Draycott translates it, the plainness of the language and the literal­­-mindedness of the speaker set off the strangeness of the story it tells, while its poised rhythms and meditative pace give time for the images to unfold in our imaginations:

After a month of living in Honfleur I still hadn't seen the sea as I was under doctor's orders to keep to my room.
But last night, weary of being alone and taking advantage of the mist, I constructed a jetty out to the water.
I let my legs dangle over the end and watched as the sea breathed deeply there beneath me.

How wonderfully the banal and the surreal sit side by side. Visual simplicity combines with subtlety of suggestion: the smallness of the man against the breathing vastness of a sea that seems to represent the ocean of all being and all time, of everything that isn't him. Then things get stranger. An old man, appearing with dreamlike suddenness, starts hauling things out of the sea on a pulley, people, animals and objects, everything, he says, that he's put in over the years. He looks at each thing with quickly fading hope, and finally throws everything back. The last thing drags him with it and the speaker returns shivering to bed.
Draycott's distillation of Michaux's oeuvre shows both its inventive ...
The page you have requested is restricted to subscribers only. Please enter your username and password and click on 'Continue'.
If you have forgotten your username and password, please enter the email address you used when you joined. Your login details will then be emailed to the address specified.
If you are not a subscriber and would like to enjoy the
272
issues containing over
11,000
poems, articles, reports, interviews and reviews, why not
subscribe
to the website today?