This review is taken from PN Review 242, Volume 44 Number 6, July - August 2018.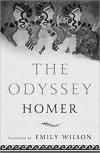 'All his songs will be the best forever!'

Kenneth Goldsmith, Against Translation (Jean Boîte Editions) £39;
Emily Wilson, The Odyssey (Norton) £30
Anyone who argues, as Kenneth Goldsmith does in his short essay cum over-expensive boxset Against Translation, that, 'Translation is the ultimate humanist gesture. Polite and reasonable, it is an overly cautious bridge builder. Always asking for permission, it begs understanding and friendship…' has never read the Author's Note at the end of the 1992 edition of Milan Kundera's 1967 debut, The Joke. In it, Kundera argues against the 'translation­adaptation' of the first four (!) translations of his novel and explains the process by which he himself worked 'word-for-word' to translate the novel from the fourth translation (a Goldsmith manoeuvre if ever there was one). No translator is listed for the fifth translation, but Kundera's work retains many passages from translations by Michael Henry Heim, David Hamblyn and Oliver Stallybrass. If translation begs understanding and friendship, it's clear that the original author is capable of denying the translator both.

But there is another significant factor in translation often left undiscussed and which Goldsmith should consider in more depth: the market. Five different translations of a novel say much about the forces behind its reception. Literary translation can be big business, too, and no sector of the literary market more renewable than the classics. Think of the needs and wants of the students in those introductory humanities courses running worldwide. How many begin their introduction to culture, tradition and literature with Homer? There are thousands and thousands of copies sold annually to meet that demand: required reading and its payoff – in ...
The page you have requested is restricted to subscribers only. Please enter your username and password and click on 'Continue'.
If you have forgotten your username and password, please enter the email address you used when you joined. Your login details will then be emailed to the address specified.
If you are not a subscriber and would like to enjoy the
266
issues containing over
10,800
poems, articles, reports, interviews and reviews, why not
subscribe
to the website today?