This review is taken from PN Review 241, Volume 44 Number 5, May - June 2018.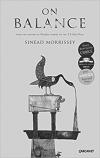 A Thousand Words
Sinéad Morrissey, On Balance (Carcanet) £9.99
At an event last year in Newcastle, Sinead Morrissey introduced her poem, 'Millihelen', by defining its title-word: a unit measuring the amount of beauty required to launch a single ship, rather than the mythical 1K. Helen over a thousand. A 'fanciful' idea, a note on the text tells us, but with a deliberate borrowing from the modes of utility. The poems in Morrissey's sixth volume enact, variously, this idea of constituent parts versus wholes, empirical observation by the light of things less tangible. At what point, if ever, Morrissey appears to ask, does something become more than the sum of its parts? The poems achieve a sort of magic, but also show their working-out in the margins – reading them feels like taking apart a clock while it still ticks, or holding a still-beating heart. In 'Millihelen', set at the launching of the
Titanic
in Belfast, we occupy a:

moment swollen with catgut-
about-to-snap with ice picks hawks' wings
pine needles eggshells

The fluid syntax also somehow isolates each word, each line, exposing the 'units' of language even as it quickens their flow. We feel each rivet and bolt of the creaking ship as it gulps out into the impossible sea 'as though it were ordinary'.
As though anything were ordinary, Morrissey celebrates the often-blurry boundary between the mundane and the miraculous. 'Mayfly', a stunning poem dedicated to pioneering aviator Lilian Bland, tricks about in the accidental awkardnesses of the English language – in phrases like 'Conspicuously mischristened' and 'may-fly // ...
The page you have requested is restricted to subscribers only. Please enter your username and password and click on 'Continue'.
If you have forgotten your username and password, please enter the email address you used when you joined. Your login details will then be emailed to the address specified.
If you are not a subscriber and would like to enjoy the
271
issues containing over
11,000
poems, articles, reports, interviews and reviews, why not
subscribe
to the website today?