This review is taken from PN Review 241, Volume 44 Number 5, May - June 2018.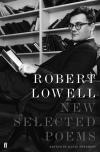 Heightened from Life
Robert Lowell, New Selected Poems (Faber) £14.99
At the San Francisco Poets on Poetry conference in 1979, Susan Gilbert recalls a panel on 'contemporaries' where one speaker stood up to proclaim, 'Catullus is my contemporary and Pound is my contemporary, and Whitman is my contemporary, and Bly is my contemporary, but Robert Lowell is not my contemporary'. This rather pompous declaration was met with 'applause, laughter, and some cheers', a response that, as Gilbert points out, was indicative of the general turn against Lowell which was in motion by the end of the 1970s. Lowell, with his ambivalent politics, his well-publicised breakdowns and his controversial inclusion of personal letters in the volume The Dolphin (1973), became a distinctly unfashionable figure. His stock had fallen dramatically, and by the late 1970s there were few who still held him to be 'the greatest American poet of the mid-century', as he had so often been lauded during his lifetime.

Following the 2003 edition of Lowell's Collected Poems, there was a resurgence of interest in his work but the reviewers remained divided on his merits and, often, his most vehement defenders did as much to obscure his complex achievement as his detractors. Commentators who reified Lowell as 'The Voice of America', as 'the major American poet of his generation', as 'prophetic' set him up as being authoritarian, monumental and transparent, propounding the division between him and those avant-garde poets who have been oppositionally championed as wary of direct statement and deliberately evasive of a coherent lyric subject. This is, of course, an unhelpful dichotomy as ...
The page you have requested is restricted to subscribers only. Please enter your username and password and click on 'Continue'.
If you have forgotten your username and password, please enter the email address you used when you joined. Your login details will then be emailed to the address specified.
If you are not a subscriber and would like to enjoy the
272
issues containing over
11,000
poems, articles, reports, interviews and reviews, why not
subscribe
to the website today?