This review is taken from PN Review 240, Volume 44 Number 4, March - April 2018.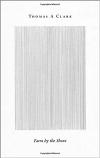 Beside the sea

Thomas A Clark, Farm by the Shore (Carcanet) £9.99
Imagine if, instead of a poetry collection, the book we were given to read was a history of height. How long would it be before the feelings of anticipation and excitement we felt at being taken to the high altitudes were replaced by the familiar airsick slide to habituation? Reality in Thomas Clark's uncontrived new collection is, by small miracles, quite different. Set amongst the cheek-by-jowl landscapes of a lowland farm and a shoreline on the Fife coast in east Scotland where he has lived for more than four decades, Clark's poetry shares with the reader a vision of optimistic change that is disarmingly ambitious, modestly and unerringly sustained. That it does so while avoiding the pitfalls of an exiguous naturalistic flatlining that has claimed one or two others installs him as a poet of astute observational skills and no mean ability. His writing possesses, arguably has always had, a rare quality, a rinsed freshness that is entirely its own.

Refreshingly Clark takes issue even with the description of his poetry as 'work', preferring instead a commitment towards establishing a 'phenomena of poetry'. Such care and commitment without the pre-Reformatory zeal is a welcome addition. On the evidence of this book (and the last two) he is well on his way.

The lightness of touch in the treatment of poetic self is exquisite, reminiscent in its clarity and rigour of recent poetry from Belgium and Holland (De Coninck, Kopland, Van Hee, Gerlach, Van Vliet). The narrative excels, the shifts in mood and theme are beautifully and deftly handled; ...
The page you have requested is restricted to subscribers only. Please enter your username and password and click on 'Continue'.
If you have forgotten your username and password, please enter the email address you used when you joined. Your login details will then be emailed to the address specified.
If you are not a subscriber and would like to enjoy the
271
issues containing over
11,000
poems, articles, reports, interviews and reviews, why not
subscribe
to the website today?