This review is taken from PN Review 240, Volume 44 Number 4, March - April 2018.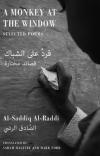 Pas de Politics

A Monkey at the Window: Selected Poems, Al-Saddiq Al-Raddi, translated by Sarah Maguire and Mark Ford (Bloodaxe) £12
Al-Saddiq Al-Raddi's A Monkey at the Window is an unusual collection of selected poems, as the selection process excludes one of the Sudanese writer's most popular forms – his political poetry.

Unlike the censorship in his native Sudan, which ranked 174 out of 180 countries on the Press Freedom Index 2016, the exclusion is not due to Al-Saddiq Al-Raddi's political ideas. In her introduction to A Monkey at the Window, Sarah Maguire, who co-translated the collection with Mark Ford, writes how the 'avowedly political poetry' is 'not translated here since the density of its contextual references makes it all but impenetrable to outsiders.' The poet's words are so entwined with Sudan's histories and collective memories that the poems are resistant to the act of translation itself.

Known as one of the leading African poets writing in Arabic, Al-Saddiq Al-Raddi is an important figure in Sudanese and Arabic poetry. Born in Omdurman, Khartoum in 1969, he was a published poet by the age of fifteen. In 2012 he was sacked from his position as cultural editor of Al-Sudani newspaper and subsequently exiled. In an interview with The Guardian in 2006, the poet was reluctant to promote his role as an activist and pointed to the work of underground writers in Sudan instead. 'There are poets who are political activists and members of underground organisations,' he said, 'and there are poets like myself who do not participate actively in underground organisations, but who have strong political views and a strong vision ...
The page you have requested is restricted to subscribers only. Please enter your username and password and click on 'Continue'.
If you have forgotten your username and password, please enter the email address you used when you joined. Your login details will then be emailed to the address specified.
If you are not a subscriber and would like to enjoy the
271
issues containing over
11,000
poems, articles, reports, interviews and reviews, why not
subscribe
to the website today?