This review is taken from PN Review 239, Volume 44 Number 3, January - February 2018.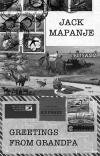 Chameleon colours

Jack Mapanje, Greetings from Grandpa (Bloodaxe) £9.95
Where is the spirit that touched the hearts
Lightly – chameleon colours of home?
('Visiting Zomba Plateau', from The Last of the Sweet Bananas: New and Selected Poems, Bloodaxe)

Greetings from Grandpa is the sixth collection of poems by Jack Mapanje, who was born in Malawi in 1944. His first collection, Of Chameleons and Gods, led to his imprisonment, without trial, from 1987 to 1991. After his release, Mapanje came to Britain, where he still lives. He has out-lived both the regime of Malawi's dictator, Hastings Banda, and the man himself.

'Doesn't chameleon / wear the colours of his / adopted twigs?' Mapanje writes in 'Imagining Home'. But he is a teller of colourful 'true truths', who chronicles, unforgettably, the defects of his adopted country. In 'Lu's Home Delivery', Mapanje recounts how his pregnant daughter is told by phone to 'take more paracetamol'. After the baby is delivered, by 'Lu's visiting mum, / a radiant midwife once', the official medical team descends. '"Well / done you!" they barked.' The commanding verb is loaded. Mapanje's work punches with the weight of history.

In the changeful colours 'in diaspora', Mapanje finds a former lackey of the Banda regime offering a cheap carwash 'at Tesco's car park': 'I took him on'. With characteristic courage, he also takes on the challenge of commenting, with passionate lucidity, on countries as varied as Botswana, Palestine and Egypt. Occasionally, poems labour a point. Mapanje's readers do not need explicit praise of 'little nations that function', after lines which ...
The page you have requested is restricted to subscribers only. Please enter your username and password and click on 'Continue'.
If you have forgotten your username and password, please enter the email address you used when you joined. Your login details will then be emailed to the address specified.
If you are not a subscriber and would like to enjoy the
271
issues containing over
11,000
poems, articles, reports, interviews and reviews, why not
subscribe
to the website today?