This review is taken from PN Review 239, Volume 44 Number 3, January - February 2018.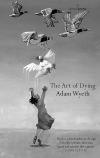 Russian Dolls

Adam Wyeth, The Art of Dying (Salmon Poetry) €12
Adam Wyeth's second collection
The Art of Dying
is published by Salmon, one of Ireland's leading poetry publishers. The book is divided into three sections, with each section demonstrating a different and gradually more daring poetic approach. The first section is the most conventional in the sense that it contains a variety of poems describing the world that we live and die in. Many of the poems here are striking for a number of reasons: 'Girl with a Bag in Barcelona' for its compelling story-telling; 'Foxglove Fantasia' for its beautiful closing image of cotton dresses blowing in the wind; 'Anatidaephobia' for its clear diction and surrealist overtones; 'Tomas Transformer' for its title and its mysterious brevity. The forms in this first section are unobtrusive and the language is plain and clear. Adam Wyeth's adjectives are precise, for example in 'The World', a poem about a young boy watching his mother clean their kitchen, in which the adjectives are as follows: blue, shiny, closed, smooth, wilting, bare, polished, twisted, chrome, old, and icy. This list alone is a powerful evocation of a relationship from the boy's point of view.
But then there is a poem such as 'Mythmakers', which suggests that a second poet lurks beneath the first. It's a hint of what's to come:

These are rough metaphors.


I could polish and shape them
until they are round
and smooth as crystal balls.


I could tear my eyes
out of my skull and replace them
with these ...
The page you have requested is restricted to subscribers only. Please enter your username and password and click on 'Continue'.
If you have forgotten your username and password, please enter the email address you used when you joined. Your login details will then be emailed to the address specified.
If you are not a subscriber and would like to enjoy the
266
issues containing over
10,800
poems, articles, reports, interviews and reviews, why not
subscribe
to the website today?