This review is taken from PN Review 238, Volume 44 Number 2, November - December 2017.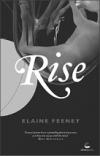 Clap Hands and Sing

Elaine Feeney, Rise (Salmon Poetry) €12;
Joan McBreen, Map and Atlas (Salmon Poetry) €12;
Kerrie O'Brien, Illuminate (Salmon Poetry) €12
Elaine Feeney's Rise is her third full collection and follows 2013's The Radio Was Gospel. Like, but even more so than its predecessor, it is full of poetry, in every sense. Each of five sections opens with the words of other poets. Inside the back cover there are 'Acknowledgements of Influence'. Feeney finds encouragement, but not consolation, in this poetry of others: 'I've only Bukowski and Heaney and I am not sure I want to die to the sound of either of them'.

Notable is the inclusion of poems of all shapes and sizes – there are long page-fillers (the entire fourth section) and more slight poems like the almost parenthetical love letter to a son ('Jack'). Form becomes more and more irregular as the collection progresses. Even the type gets in on the act. It changes size, face, and for one portmanteau– 'upsidedownimages' – orientation.

The effect of all of this – and perhaps the intention – is not to situate Feeney in the Irish canon but to explode the idea of canon with an intense exploration of personal life and its public manifestations. Ireland's literary, cultural and social history is made to break on the rock of its literary, cultural and social pasts. The final poem, 'Rise', is Beat-like: 'rise out of their history books and into your history / write it down yourself / bring it with you / even on the back of your hand to remind you / it's there, rising.'

If Feeney's Ireland is a frantic and ...
The page you have requested is restricted to subscribers only. Please enter your username and password and click on 'Continue'.
If you have forgotten your username and password, please enter the email address you used when you joined. Your login details will then be emailed to the address specified.
If you are not a subscriber and would like to enjoy the
271
issues containing over
11,000
poems, articles, reports, interviews and reviews, why not
subscribe
to the website today?