This review is taken from PN Review 238, Volume 44 Number 2, November - December 2017.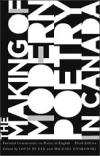 Old News and Fake News

Louis Dudek and Michael Gnarowski, editors, The Making of Modern Poetry in Canada, Third edition (McGill-Queen's University Press) CDN $29.99
Modern poetry, it seems, in Canada, was largely a man's affair through the early sixties. These were the pre-Atwood days, and there are few contributions from women in this weighty/weighted anthology of supposedly significant documents and argument relating to Canadian modernism. Though she's listed on the back cover as a contributor, the only inclusion from a woman poet is an eight-line letter from P. K. Page to the editors of the Northern Review. Further along, there's a journalistic puff piece by one Joan Finnigan on Canadian poetry, published in the Globe & Mail, 20 January 1962. Though the Globe has continued its poetry puffing these past fifty-five years, that newspaper has endeavoured to include more women in its pages. No such luck with the now third edition of The Making of Modern Poetry in Canada. Which is a shame, because three of the best poets of the era, three of the best Canada has produced, were Page, Margaret Avison, and Anne Wilkinson.

Canadian modernism is an invention, invented first by A. J. M. Smith and concretised here by Louis Dudek, a self-proclaimed Poundian high-modernist. No one questions the influence of modernism in Canada, but the belatedness of its arrival goes undiscussed. Everyone wants to be the hero; no one wants to be the hero-come-lately. Canada's first Imagist, W. W. E. Ross, began publishing in the 1920s – late in the day and past the point of Pound's interest in the movement. (Though Ross's name comes up frequently in this book, it's worth noting there isn't ...
The page you have requested is restricted to subscribers only. Please enter your username and password and click on 'Continue'.
If you have forgotten your username and password, please enter the email address you used when you joined. Your login details will then be emailed to the address specified.
If you are not a subscriber and would like to enjoy the
267
issues containing over
10,800
poems, articles, reports, interviews and reviews, why not
subscribe
to the website today?