Readers are asked to send a note of any misprints or mistakes that they spot in this article to
editor@pnreview.co.uk
This article is taken from PN Review 238, Volume 44 Number 2, November - December 2017.
Pictures from a Library
35: On Reading and Jane Austen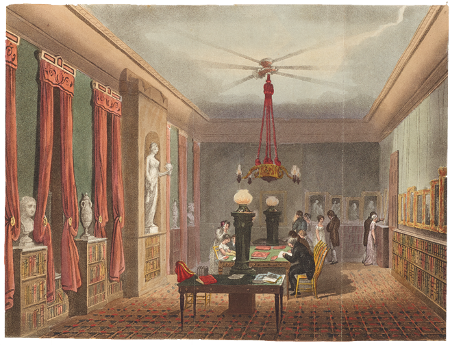 Crushed within a melee of medical and meteorological reports, fashionable furniture features, stock market figures, accounts of the persecution of Christians in China, and the farewell record of Napoleon's mischances, the 1813 edition of Rudolph Ackermann's
Repository of the Arts
, contains a fashion plate picturing a rosy-cheeked young woman. Her sparkling eyes and dark curls are set off to good advantage by her cap 'composed', as the rubric informs us, of 'jonquil satin, and treble borders of scalloped lace'. Her polonaise robe, 'so attractive and elegant' is deemed to be 'particularly adapted to the slender tall figure' exemplified by the newly minted heroine of
Pride and Prejudice
published that year, or even the actual person of Elizabeth Bennet's creator herself, who scholars believe was slightly taller and slimmer than the supermodel Kate Moss.
First impressions suggest she is a modish Miss but it is the accessory of the volume in her hand that confirms her de rigueur status. Books were emblematic of the reading craze that raged across Europe during the late eighteenth and early nineteenth centuries. In Britain the strain of the mania was especially virulent where 'everyone, but women in particular, carried a book around in their pockets' (Reinhard Wittman) to devour 'with a kind of ravenous hunger' (Johann Rudolf Gottlieb Beyer).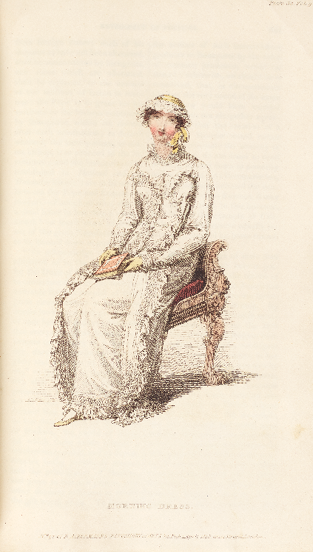 IMAGE:
Ackermann's Repository of the Arts
, 1813. (© University of Manchester, 2017)
Yet, this young lady would have needed the wealth of an Emma Woodhouse to acquire books in quantity for they were, according to Southey, 'inordinately expensive' and purchased by the rich, 'chiefly as furniture'. Those who 'bought books do not read them and they who read them do not buy them.' The 'do not buy them' camp, which included Austen, and her family, fed their addiction by taking out subscriptions to circulating libraries like Ackermann's establishment in the Strand, shown here.
Samuel Fancourt first inaugurated circulating library in 1735 to disseminate religious texts. By the time our young lady was using them however their stock had diversified to sate secularized reading habits designed to entertain. They were not universally admired and some considered them to be 'breeding grounds for vice' (Wittman).
The most disparaged genre associated with circulating libraries was the novel, exemplified by the volume clasped within our fashionista's fingers. Kant believed they developed a 'habit of diversion' and caused 'many other upsets to a person's nature'. Worst of all they encouraged women to read and 'reading was generally felt to represent a withdrawal from a woman's proper social concerns' (Lee Erickson). Austen's riposte is famous, 'the person who has not pleasure in a good novel, must be intolerably stupid', for it is in novels that 'the greatest powers of the mind are displayed, in which the most thorough knowledge of human nature, the happiest delineation of its varieties, the liveliest effusions of wit and humour are conveyed to the world in the best chosen language'. Two hundred years from her death the argument appears to be settled.
This article is taken from PN Review 238, Volume 44 Number 2, November - December 2017.