This review is taken from PN Review 237, Volume 44 Number 1, September - October 2017.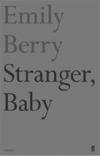 Questions and Answering Back
Harry Clifton, Portobello Sonnets (Bloodaxe); Emily Berry, Stranger, Baby (Faber); Anne Stevenson, About Poems and how poems are not about (Bloodaxe)

Harry Clifton's witty and engaging collection, Portobello Sonnets, is the latest offering from the distinguished Irish poet. Employing an epigraph from Patrick Kavanagh, 'In the third age, we are content to be ourselves, however small', the collection marks a confident and technically accomplished maturity, at ease with the ordinary stuff of life, as he returns to the Irish capital after sixteen years in Europe. The opening sonnets describe the poet's feelings to be back in a city at once familiar and strange in demotic language that is carefully crafted into sonnet form (Clifton varies his sonnets which are sometimes European and sometimes English in structure). The third sonnet describes snow in the early morning, and an empty scene as he looks out through his window: 'Listen, sit, be grateful for a day / When nothing happens. Time, pure light / And silence, the world looking the other way' (p. 11). Not only is this written in line with Kavanagh's epigraph but it is a telling reminder that nothing actually has to happen in a poem for it to be significant; or, indeed, enjoyable.

Sonnet 7 commemorates the life of an editor, the busy city alerting the poet that his verse has to do the work of memory because nothing will stop: 'New life, new continuities, now, at the end of our tryst' (p. 15). It is his duty to preserve the past, as he does elsewhere in the collection: 'They are holding the tram / As usual for Grandad, running late / From his job in the ...
The page you have requested is restricted to subscribers only. Please enter your username and password and click on 'Continue'.
If you have forgotten your username and password, please enter the email address you used when you joined. Your login details will then be emailed to the address specified.
If you are not a subscriber and would like to enjoy the
271
issues containing over
11,000
poems, articles, reports, interviews and reviews, why not
subscribe
to the website today?