This review is taken from PN Review 237, Volume 44 Number 1, September - October 2017.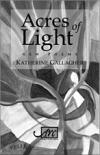 Changing Seasons
Katherine Gallagher, Acres of Light (Arc)

Siobhán Campbell, Heat Signature (Seren)

Acres of Light by Katherine Gallagher is a 74-page warehouse of cliché: cliché of expression, cliché of form, cliché of thought. Nobody who spends much time reading poetry will find anything here they haven't heard several times before. In the first poem – set in a park in the summertime – there is a boy in the background 'on the sax', playing Summertime. And this is how the whole collection feels: for any object due to be described, the canonical expression of that object is reached for. Peacocks strut through halcyon afternoons underneath the azure sparkle of the sky. Love is fire: 'When your heart grips and won't let go, it's fire'. A love poem ends, genuinely, with 'happy ever after'.

It isn't just the phrasing that's hackneyed. The insights here seem to be that flowers in summer are nice, that it's sad when our loved ones die, that The Beatles wrote good songs. After a while you half expect a poem arguing that all unmarried men are bachelors. There's a lack of formal imagination, too: although mostly working in free verse, Gallagher seems to have 'had a go' at a bunch of well-known forms: there's a ghazal, a villanelle, a handful of haiku, a few tin-eared rhyming quatrains. The common factor is the total lack of indication that any thought has been given to the relation between the form and the content of a poem.

Of course, none of this is really a criticism. The fact that these poems have been included in places like The Best Australian Poems ...
The page you have requested is restricted to subscribers only. Please enter your username and password and click on 'Continue'.
If you have forgotten your username and password, please enter the email address you used when you joined. Your login details will then be emailed to the address specified.
If you are not a subscriber and would like to enjoy the
271
issues containing over
11,000
poems, articles, reports, interviews and reviews, why not
subscribe
to the website today?