This review is taken from PN Review 237, Volume 44 Number 1, September - October 2017.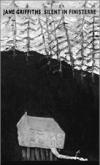 Landscape or Language?
Jane Griffiths, Silent in Finisterre (Bloodaxe), £9.95

Is it a matter of landscape or language?
the book asks. Where would you most like to live […] ?

The lives of Jane Griffiths' poems are intriguingly varied. The best work in her fifth collection,
Silent in Finisterre
, has startling freshness and power. Griffiths' sophisticated, unusually thoughtful poetry is often dominated by very early memories. Unashamedly, effectively, she repeats cherished place names – 'Taddyford', 'Gilgarran' – until they become part of her reader's mindscape. Some poems speak urgently to a lover, relative or friend. This may exclude readers, as in the haunted stories of 'The Museum of Childhood'. This sequence begins 'When you ask how I remember the past' and ends with 'nothing but seeing through'. I felt that Griffiths' vision was wonderfully seen through in her shorter poem, 'Revenant':

And I will go down to Gilgarran
by sunset, cowbell, ice cream van
And I will go down to Gilgarran
by myself, by name alone

Griffiths' technique can be compelling, not least through strikingly original rhythms. The lovely 'Song of Childhood' ends:

to range the sky that was tall as a crane
all the way to Starcross, and back again.

This airy couplet, in ten-syllable lines, hinges on lightly running syllables far closer to nursery rhyme than to iambic pentameter. The fluid spill of Griffiths' lines is particularly well-tuned to water. She listens to landscape with humble and perfect attention: 'Sure of itself, the sea ...
The page you have requested is restricted to subscribers only. Please enter your username and password and click on 'Continue'.
If you have forgotten your username and password, please enter the email address you used when you joined. Your login details will then be emailed to the address specified.
If you are not a subscriber and would like to enjoy the
272
issues containing over
11,000
poems, articles, reports, interviews and reviews, why not
subscribe
to the website today?