News
Yves Bonnefoy at 90
Monday, 15 Jul 2013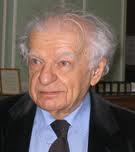 Anthony Rudolf has written to us about Yves Bonnefoy's ninetieth birthday.

On Monday June 24, the actual anniversary, Yves Bonnefoy celebrated his 90th birthday, amidst those of his many friends who were able to get to Paris from around the world. A simple matter for me: a short tube hop on the Northern Line to Saint-Pancras and then Eurostar. I had time to meet with two other friends and drop off my overnight bag at the small hotel near République before taking the metro to Solférino, which is at the opposite end of Boulevard Saint-Germain from the Quartier latin, albeit still well within my comfort zone. A short stroll took me to the beautiful building and grounds of the Maison de l'Amérique latine, which hosts gatherings of all kinds. Indeed it was here some years ago, that we celebrated the wedding of Mathilde Bonnefoy, present on this occasion with her husband Dirk.

Once again the weather was perfect. A violinist serenaded Yves, who was on excellent form and murmured to me a line from Yeats (whom he has translated so marvellously) that flattered all present: "and say my glory was I had such friends". I had several conversations with friends or acquaintances who have themselves told the story, as I have (PNR 176), of their first meeting with Bonnefoy and how it left its mark forever as they went their own way in the world, on and off the page: one such was the poet and France Culture maestro Alain Veinstein, who met Bonnefoy the same year I did, fifty years ago. It is always the same story: how Bonnefoy, older, famous, prodigiously learned, authoritative, yet level headed, good humoured and modest, wants, seeks out, dialogue: a mentor yes, but not a guru, a man who learns as well as teaches, an existential role model even for those whose own writing does not necessarily bear the imprint of direct influence.

Painters, publishers (Gallimard co-hosted the party), editors, scholars, poets, were among the guests, many of whom were friends or acquaintances of mine. The poets included some of Bonnefoy's many translators such as Stephen Romer (we discussed a possible Bonnefoy Reader for Carcanet), Hoyt Rogers, John Taylor who has translated Yves's friends Jaccottet and Dupin, and Jean-Paul Michel, publisher of several Bonnefoy books at William Blake et Cie. Isabelle Assar, translator and widow of an old friend and painter Nasser Assar, was present, as were the artists Jean Leyris, Claude Garache, Farhad Ostavani and Dominique Gutherz. Dominique, newly retired from directing the Ecole des Beaux-Arts in Nîmes, showed Paula Rego's prints there in 2008, including the series of etchings Les Planches courbes, inspired by Bonnefoy's eponymous work, and later published as a magnificent artist's book by François Bénichou, naturally with us at the party. The livre d'artiste included my translation of the prose fable at the centre of Les Planches courbes and a beautiful and profound essay in the form of an open letter: "Dear Paula".

There were faces from the past: Michael Edwards, who recently became the first British-born member of the Académie française, and Michel Deguy whom I translated forty years ago. Three other faces from the past -- Mallarmé, Rimbaud and Proust -- in the incarnations of world experts, their editors Bertrand Marchal, Alain Borer and a former director of the French Institute in London, Jean-Yves Tadié. With Borer at least, one could bring him up to date on the only aspect of Rimbaud one knows more about than he does: the state of play in the battle to save the house where Rimbaud and Verlaine lived in London.

Even as Bonnefoy spends time in his office at "63" (across the road from "72" where he lives with his painter wife Lucy Vines) organising the collection of his many papers and lectures and other texts for eventual publication in book form, he continues writing personal meditations and poetry, as well as essays on poetics and literature and translation. And, as always, he is there for his friends when they need him, whether it involves a personal confidence or advice or merely a spot of gossip. What a privilege to be a close personal friend and translator of this master – who changed my life fifty years ago.