This review is taken from PN Review 232, Volume 43 Number 2, November - December 2016.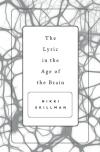 The Muse in Brains
Nikki Skillman
The Lyric in the Age of the Brain
Harvard University Press, 2016
£29.95
'Fool,' said my Muse to me, 'look in thy brain and write!' This might be the updated version of Sir Philip Sidney's imperative for the modern lyric poet, in an age in which neurological research and its circumambient speculations are potent presences, displacing, competing and combining with older poetic, philosophical, religious and metaphysical ideas of human consciousness and identity and offering, with varying degrees of nuance and sophistication, models of 'the embodied mind', generated and constrained by physiology.

Skillman's absorbing book explores the impact of neurological notions on modern lyric poetry, particularly in the work of Robert Lowell, A.R. Ammons, Robert Creeley, James Merrill, John Ashbery and Jorie Graham, each of whom provides 'special insight into the effects of cultural neurologism within a different domain of mental life': 'emotion and personality' in Lowell; 'conscious thought' in Ammons and Creeley; 'memory' in Merrill; 'attention' in Ashbery; and 'perception' in Graham. Skillman's conclusion (which is really the start of another book) addresses what she calls 'anti-lyric' in the work of Tan Lin, Juliana Spahr and David Buuck, Harryette Mullen and Christian Bök.

Considering Robert Lowell, Skillman argues that, in the trajectory of his work, he 'interprets the moving target of his illness' as 'a curse'; 'a metaphysical quandary'; 'a physiological symptom' which lithium could remove ('my own decisive trouble was, as with all manics, a salt deficiency'); and 'finally as an emblem of mortal limitation that conducts him, in his last poems, through familiar human zones of hope and despair', for example in 'Seesaw' which acknowledges '[t]he encroachments of ...
The page you have requested is restricted to subscribers only. Please enter your username and password and click on 'Continue'.
If you have forgotten your username and password, please enter the email address you used when you joined. Your login details will then be emailed to the address specified.
If you are not a subscriber and would like to enjoy the
272
issues containing over
11,000
poems, articles, reports, interviews and reviews, why not
subscribe
to the website today?