This review is taken from PN Review 262, Volume 48 Number 2, November - December 2021.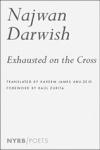 The Sea of a Single Day

Najwan Darwish, Exhausted on the Cross, translated by Kareem James Abu-Zeid (NYRB Poets) $16.99
Choi Seungja, Phone Bells Keep Ringing for Me, translated by Won-Chung Kim and Cathy Park Hong (Action Books) US $18.00
The title of Palestinian poet Najwan Darwish's
Exhausted on the Cross
sets the tone for poems of despair and resistance. Darwish's voice is often plural, not a speaking for but a speaking to. The title poem opens, 'The ones hanging / are tired, / so bring us down / and give us some rest.' It's enough now, the suffering and occupation of so many lifetimes. Yet Darwish's poems don't let up or give in: 'I'm not King David – / I won't sit at the gate of regret / and sing you psalms of lamentation / after the sins.' What we read instead is sadness, a consideration of loss and its weight on the living.
'They Woke You at Dawn' is dedicated to Rasmea Odeh, a convicted terrorist or a great hero, depending. Her complicated life (Odeh maintains her conviction is based on a confession she gave under torture) is portrayed compassionately by the poet:
Christ was a fedayee, just like you,
but he was condemned and crucified
in the sea of a single day, while you –
your cross is raised with every dawn.
'
Fedayee'
, the translator tells us, is 'an Arabic word that denotes both guerilla-style resistance and the sacrificing of one's own life'. In this short poem, Darwish exemplifies Odeh in her prison of living history, a martyr whose every day is suffering.
The representation of history is prominent in the book. 'A Story from Shiraz,' begins, 'Read history, but don't believe the historians'. The prose 'story' retells an anecdote of the meeting of ...
The page you have requested is restricted to subscribers only. Please enter your username and password and click on 'Continue'.
If you have forgotten your username and password, please enter the email address you used when you joined. Your login details will then be emailed to the address specified.
If you are not a subscriber and would like to enjoy the
272
issues containing over
11,000
poems, articles, reports, interviews and reviews, why not
subscribe
to the website today?