This review is taken from PN Review 262, Volume 48 Number 2, November - December 2021.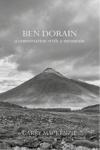 Moladh Garry MacKenzie

Garry MacKenzie, Ben Dorain: A Conversation with a Mountain (Irish Pages Press) £20

Garry MacKenzie's refreshingly original Ben Dorain can only summon before us the shade of Dhonnchaidh Bhain, as he was in Gaelic, known otherwise as Duncan Bàn MacIntyre. MacIntyre has long been celebrated in Scotland (but never enough) for his songs, and above all the virtuosic 'Moladh Beinn Dobhrain' – 'Praise of Ben Dorain', an intricately figured work of intensely visualised detail, composed 'To the tune of a Pibroch' – literally 'pipe music' – atonal bagpipe music, known as 'ceol mor', 'big music'.

'Moladh Beinn Dobhrain' is all the more astonishing in being in its making a 500 line-plus feat of memory by a man who could neither read nor write. The situation is Homeric and the highly mellifluous song itself classical and impersonal, yet expressive of intense passion. John Tonge in his landmark study The Arts of Scotland (1938), referring to the absence of the humanist element in Celtic visual art, suggested that its 'filigree technique' characterises the 'consummate and intricate… art-music' of the pibroch. That amounts to saying that Celtic oral, visual, and musical culture enjoyed common forms of coherence. As we stalk the poet through his poem, the assymetries of a pibroch mark our step, switching from 'urlar' (theme) to 'siubhal' (variation) and in this case 'an crundludh' (finale), preceded by again an 'urlar'. I believe this is about as echt as it gets.

The key period in Bàn MacIntyre's life of present interest was passed as a forester in the service of the Earl of Breadalbane, in Coire-Cheataich, ...
The page you have requested is restricted to subscribers only. Please enter your username and password and click on 'Continue'.
If you have forgotten your username and password, please enter the email address you used when you joined. Your login details will then be emailed to the address specified.
If you are not a subscriber and would like to enjoy the
272
issues containing over
11,000
poems, articles, reports, interviews and reviews, why not
subscribe
to the website today?